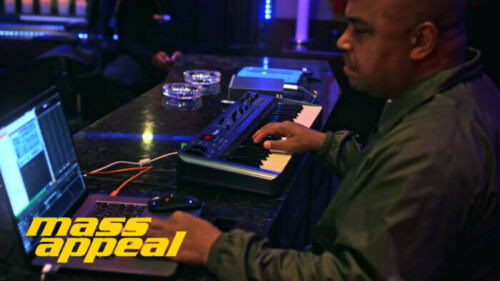 A technology company with a rich hip-hop history, Serato works tirelessly to facilitate and inspire producers to be as creative as they can. In the Serato Edition of Mass Appeal's acclaimed series Rhythm Roulette, Grammy award winning producer DJ Khalil demonstrates the potential of Serato's latest product: Serato Studio 2.0, equipped with the revolutionary audio separation technology Serato Stems. Recently awarded for his work on Kendrick Lamar's Mr. Morale and the Big Steppers album, Khalil is an expert at transforming bits and pieces of existing records into soulful, cinematic and lived-in beats, and Rhythm Roulette shows how Serato helps unlock his creativity, removing technical obstacles and allowing him to loop and flip more freely.
In the video, the L.A.-based Khalil ventures to the legendary Amoeba Music, offering a massive selection of gems for him to stumble upon. A blindfolded Khalil selects three random records, and returns with releases by The Delfonics, James Reese and The Progressions, and The Coupe De Villes. Using Serato Stems and Studio's powerful sampler, Khalil quickly and easily selects the moments of the song to sample, and instantly isolates the drums, topline, bass, and melody, taking bits, pieces and manipulating them to his own devices.
"Just being able to separate out those drums and create a loop that had all the music in…now you have unlimited breaks, in my opinion," says DJ Khalil.
The final product combines Khalil's samples with some original keyboard melodies to become a heavenly and hard-hitting instrumental that speaks to the "essence of hip-hop." Towards the end of the video, Khalil takes time to marvel at the technological advancement from turntable breakbeats to digital audio separation.
"It's pretty incredible to see the evolution," says DJ Khalil, "from DJs in the parks going back and forth to now. We can literally pick these records apart and make our own creations out of them…I feel like the technology makes it feel like you're starting all over again, you know, you're discovering a new way to approach being creative." 
Watch Khalil's Rhythm Roulette to see a master at work and experience what Serato Studio 2.0 can do.
© 2023, Seth "Digital Crates" Barmash. All rights reserved.