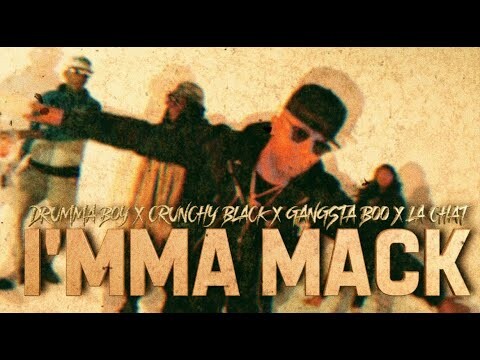 Grammy winning, hit-making producer DRUMMA BOY, is releasing his video for the record [he produced], "Imma Mack" featuring Crunchy Black, La Chat – along with the late and legendary – GANGSTA BOO. The video – shot in mid-December 2022 – was directed by K. Cutta in Memphis, TN, and unbeknownst to the world, the last video Gangsta Boo would ever film.
This record comes off of Drumma Boy's 'Welcome To My City Vol. 4' which came out in Fall 2022. 'Welcome To My City 4' features [the late] Young Dolph, Jucee Froot, Fastcash Fizzle, Bighomie KDogg, Jessica Dime and more – with additional production credits – Neko Da Don, Chriz Beatz, 2C's, Questioner and others. Speaking on the Vol. 4 installment, Drumma says "It's always a special feeling being able to bring your city together and shine a spotlight on the upcoming artists and producers! Memphis has always had a plethora of talent and it's dope seeing it finally recognized by the world."
'Welcome To My City Vol. 4' on Apple Music – https://music.apple.com/us/album/welcome-to-my-city-vol-4/1652208192
The late Gangsta Boo was a pioneer in the hip hop world rising to fame with the acclaimed group Three 6 Mafia, which she joined at the age of just 14 years old. She had collabed with other fellow incredible artists including, Run The Jewels, Lil Jon, Outkast, Eminem, Mulatto, Glorilla Pimp and many more.
Never one to slow down, Drumma Boy's upscale urban apparel boutique – House Of Fresh – in Atlanta, GA continues to curate the best and newest apparel. House Of Fresh is his first brick and mortar store, which sells not only his own Fresh Phamily clothing but also Supreme, Adidas, Nike, Play Cloths (Pusha T's line), 10 Deep, and more. To see product, and for more information on Fresh Phamily, please visit http://www.houseoffresh.online/.
Drumma Boy has worked extensively in the studio working with Desiigner, French Monatana, Alexis Ayanna, Sevyn Streeter, T.I., Angie Stone, Too $hort, Lloyd, Ace Hood, 8Ball & MJG, Tink, Young Buck and more. Best known for producing chart-topping smash hits such as Jeezy's "I Put On," Migos' "Look At My Dab," Plies feat. T-Pain "Shawty," and Waka Flocka Flame's "No Hands" feat. Roscoe and Wale just to name a few. Additionally, Drumma garnered his first R&B record to go platinum with August Alsina's "No Love" featuring Nicki Minaj and continues to work with the "who's who" of music including 2Chainz, Gucci Mane, Kanye West, Lil Wayne, Drake, Chris Brown and Wiz Khalifa amongst others.
© 2023, Seth "Digital Crates" Barmash. All rights reserved.