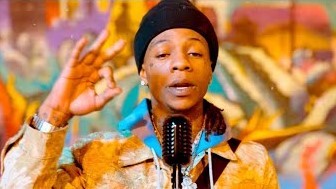 EBK Young Joc, the Stockton, CA rapper defining the newest sound of West Coast hip-hop, has just shared his new video single, "Fire On Me" from his new album, Hotboiiz:4L. On the album, led by singles "Need Love", "Klan Ties", "Prada Steppin" (feat. Big Sad 1900), "24/7" and "Two One" (feat. Young Slo-Be, EBK PayWes & EBK Durkio), Joc sets out to honor lost loved ones such as his older brother Mobbalay, and fallen friends Young Slo-Be and Bris. In the process, he's fulfilling the dreams they once shared with fierce determination. On the new single "Fire On Me", Joc paints reflective images of his life and spits no-nonsense bars over a pitched-up vocal sample and thumping 808s. As his presence is emphasized by his gruff tone, relaxed persona and matter-of-fact flows, EBK Young Joc is continuing to put the fiery Stockton scene on the map in the Hip-Hop world.
With the release of his debut mixtape 21 Jump Street in 2019, EBK Young Joc solidified himself in the Northern California rap scene as one of the region's most promising stars. He then followed up in 2020 with The Fresh Prince of Belair, marking his clear-cut ascension and by the end of 2021, Joc was widely recognized as a frontrunner in his scene. He released two projects in 2021, Forever 21 and Nightingale Legend, with the latter being described by SPIN as, "a refinement of all that's made him a luminary in Stockton's continued rap renaissance". In May of 2022, Joc released his project City Of God, an impressive showing of the craftsmanship and finesse that have made EBK Young Joc the fresh-faced star of Stockton.
© 2023, Seth "Digital Crates" Barmash. All rights reserved.