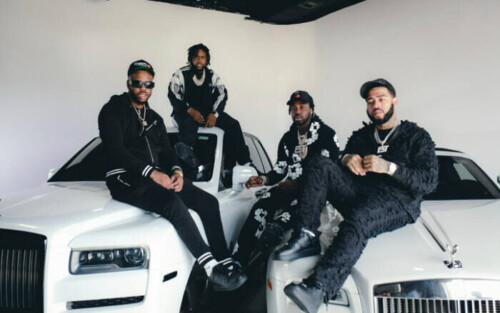 EST Gee's newly debut label and rap collective, Young Shiners, powered by Santa Anna, has dropped the highly anticipated mixtape Shiners are Forever.
With tracks such as "100+" featuring GRAMMY award-winner Lil Baby and "Dark Cloud" featuring 300 Entertainment's Lil Jairimy, the new tape shines a light on EST Gee's crew of emerging Louisville rappers (EST Marti, EST SkiMike, EST Lu Mike, EST Lil Zoski, EST DonWon) and their humble hometown, candidly telling the stories of life in the streets of Louisville from those who have lived it.
"I feel like it's my purpose," EST Gee says. "You get to a point in your life where you just feel like you know what you were put here to do, and I think this is a major part of it. And for me, that's giving visibility to people who wouldn't have had the chance otherwise. I'm grateful that Santa Anna saw the vision I have for us, it's time for the world to see what we're made of."
The new venture is launched in partnership with Santa Anna, the label services company powered by Sony Music and Alamo Records on a mission to support entrepreneurs and assist artists in maximizing building their businesses. 
"It's an exciting time," said Santa Anna founder, Todd Moscowitz. "Propelling the creative potential and success as artists build their own ventures is at the helm of what Santa Anna is. We're thrilled to be galvanizing that kind of support behind one of hip hop's leading rappers and the burgeoning artists he's looking to uplift."
Today's unveiling of the new music label precludes Young Shiners' accompanying debut mixtape release, Shiners Are Forever set to release next month, July 14th under the new venture. The new project release candidly explores life in the streets of Louisville, revealing the realities of a city that is often overlooked and unearthing storytelling that separates itself from the usual trap hubs of Memphis, Atlanta, and Detroit. 
© 2023, Seth "Digital Crates" Barmash. All rights reserved.