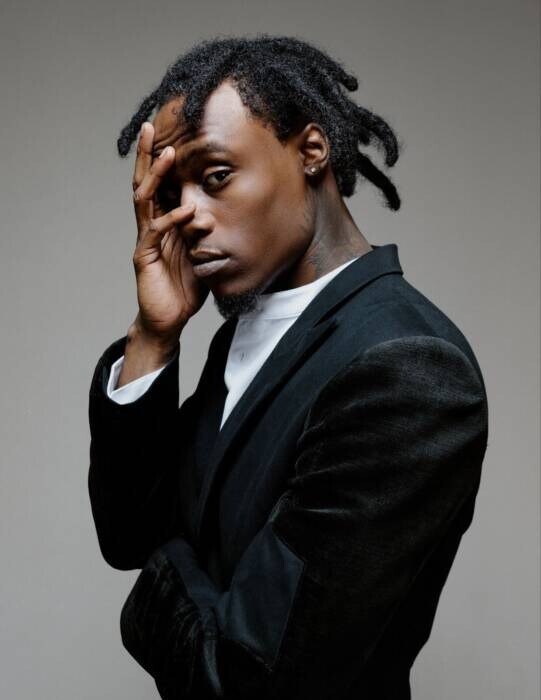 Photo Credit: Cameron Corrado (@crrdo)
Toronto's rising rapper JUGGER today announced his anticipated debut album PUPPET MASTER is coming to Red Bull Records/Wonderchild on October 27. Pulling back the curtain on the project, he revealed the official album trailer featuring the new track, "Ventriloquist." The video sees JUGGER confined in a spacecraft lab where he's being observed and tested like an extraterrestrial specimen. Grammy-nominated producer and Wonderchild label boss WondaGurl makes a special appearance as a scientist administering a mysterious liquid-filled syringe. Visually reminiscent of Michael & Janet Jackson's "Scream" music video meets 'The Fifth Element,' JUGGER's signature brand of futuristic horror primes the album for its Halloween-weekend release.
On the origins of the new single, JUGGER shares, "'Ventriloquist' is a personal look inside what my journey has been like throughout this project. The opening line, 'PUPPET MASTER, cut the strings,' depicts the separation from the powers that be. The harmonious intro drifts in like a calm before the storm, anticipating the rebel boy's return. This is the beginning of a new era, we are in control now!"
Having co-produced the track, WondaGurl adds, "As we unveil 'Ventriloquist,' a sneak peek into JUGGER's upcoming album, I couldn't be more proud. This song is just the beginning of the captivating musical journey we're about to embark on."
Spanning 13 tracks from the underbelly of JUGGER's deviant universe, PUPPET MASTER feels like a cinematic experience made for the screen. From front to back, it's a testament to his artistic evolution as he weaves a cohesive story across radical rap and haunting instrumentals. Earning praise from Complex, The FADER, Wonderland Magazine, and CBC Music, JUGGER has brought the record title to life, captivating the masses like puppets on strings. Stay tuned for the official release and more surprises to come next month.
PUPPET MASTER Tracklist
Ventriloquist
CMFTZN
Stunt Devil
Chrome
D'Lit
See Thru
Money Talks
Where
Nite Love
Nightmare
Hold U
Eyez Wide
Slave
ABOUT JUGGER
Stepping into Toronto rapper JUGGER's mind is akin to a fun house. What lies behind every twist, turn, and door may be humor, horror, or a trap. At his core, the rap mastermind is a conductor, controlling his world with little effort.
After being discovered by powerhouse producer WondaGurl (Drake, Rihanna, Travis Scott) on the fateful night of Halloween in 2017, the two unlocked each other's magic and unleashed it into the universe with the release of JUGGER's debut single, "ARC'Y BOYZ." While incarcerated, his 2019 debut project PSYCO served as a high-octane placeholder for the fury building inside him. Following the 2021 announcement of WondaGurl's Wonderchild imprint coming to Red Bull Records, all eyes were on her first signee, JUGGER, to bring his vision to life.
JUGGER is a man of many faces, switching personas and perspectives at the drop of a hat like Dr. Jekyll and Mr. Hyde. A lifelong sci-fi and horror enthusiast, the art of storytelling and world-building is a core part of the rapper's creative process. Discontent with seeing the world solely through his eyes, he is always on the search for who (or what) to embody next: "I'm an astronaut searching for the next species. Maybe I might be the next species. I'm religion and I'm the pastor. Sometimes I'm the addict and sometimes I'm the one serving addicts." As succinctly put by JUGGER himself, "I've been through it all and I'm going to document it all."
For JUGGER, the duality extends to his musical approach, separating his autobiographical material from his fantastical concepts. "I'm a real good author," he explains. "I could take my life and hold it up in front of a fun mirror and stretch it out to make some cool concepts and music."
This manipulation of reality is what JUGGER finds himself getting lost in. Fascinated by the threads that hold society together, the emcee is invigorated by the challenge of seeing how much he can break before everything begins to crumble. At the core of his forthcoming debut album, PUPPET MASTER, he spits in the face of the powers that be with a snarl, tracing the path to his radicalization.
"There are things that we all succumb to when it comes to bowing down to the 'Masters,'" JUGGER explains of the central concept of PUPPET MASTER. "It could be within relationships, governments, jobs, or school. We all have rules that we follow that we actually don't have to, but we're tied down with morals, religious beliefs, etc. that we all hold above us. There's this glass ceiling that we could break. I call that cutting the strings of the master and just learning for yourself sometimes because not everything is as it seems. There's always something in the shadows that's controlling the perception of everyone's outlook on life."
Look up to the sky and you might see JUGGER pulling the strings throughout the fiery and menacing journey of PUPPET MASTER, executive produced by WondaGurl. Over thumping bass, a windfall of piano keys, and synths, the Toronto emcee refuses to stay within the knee-jerk rage rap reaction to his music. His voice simmers into gravelly depths like a voicemail from a horror villain and skyrockets into thrilling highs with propulsive enthusiasm and urgency. "All of the written side, which is all in my mind, are the stories that chill up the spine through the enchantment of the voice," JUGGER notes about his delivery that evades comparison and characterization. "It can be very erotic with the whisper and the sharpness, like the Scream voice. It can draw you in to make you hit that wrong corner. I can bring them into the deep waters. It's just the thrill of grabbing them and bringing them to a place they never would expect."
Inspired by the masterful blues of Robert Johnson and the grim tales of his successors Three 6 Mafia, the storytelling of Bone Thugs-n-Harmony, and the worldbuilding of Michael Jackson, PUPPET MASTER is a synthesis of every bit of what makes JUGGER whole. Tiptoeing through his funhouse leads you to stumble upon one of his many forms, all luring you in to linger a bit longer to piece together the ever-evolving mystery that makes him one of 2023's ones to watch.
It's JUGGER's carnival. Do you have what it takes to make it out?
FOLLOW JUGGER
Instagram | Twitter | Facebook | YouTube | TikTok
© 2023, StanleyGatero. All rights reserved.