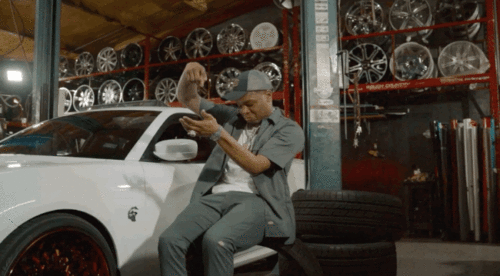 With a steady flow and a work ethic to match, Kenny Muney makes all the right moves. Coming through with a new video from Blue Muney (Deluxe), the Paper Route Empire rapper shares "Spendin & Spinnin." A sterling slice of high class street music, produced by Tady Fletcher & That Boy Cheeze, the song finds Kenny unspooling his languid triplets over paranoid string arpeggios as he salutes his fallen forebears, including his mentor Young Dolph and Nipsey Hussle. In the video, Kenny stops by specialty shop in his hometown of Memphis, checking out a wide selection of rims before selecting a shiny orange set for his Rolls Royce. "Spendin & Spinnin" follows up the recent video for new single "UHN UHN." 
The follow-up to last year's Time Is Muney, Blue Muney (Deluxe) finds Kenny locking into trunk-rattling instrumentals with surgical precision, packing more flexes into his rapidfire triplets than one can count. Released in April, the tape is home to fiery singles like the guitar-driven "Top," the soulful intro "Muney Prayer," and the Hitkidd-produced "In A Rush." Featuring additional production from Bandplay and more, with guest appearances from his PRE brother Key Glock, Money Man, Ceo Jizzle, and KATO2X, Blue Muney (Deluxe) is available everywhere via Paper Route Empire.
With Blue Muney (Deluxe) out now and more music on the way, Kenny Muney shows that he has the talent and determination to succeed in the Empire-building business. Stay tuned for more from Kenny Muney and Paper Route Empire.
© 2023, Seth "Digital Crates" Barmash. All rights reserved.