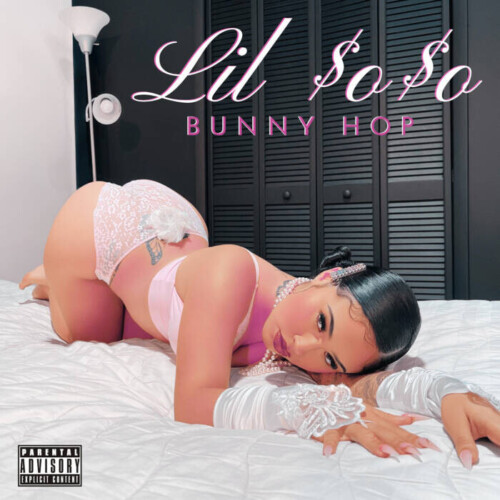 Lil $o$o released a stunning visualizer to accompany her latest single "Bunny Hop". $o$o is keeping her foot on the gas pedal as this single continues a run of striking, seductive singles. The spicy young rapper, who is known for never shying away from her sexuality, wants fans to feel liberated and vibe to this catchy single.
The visualizer shows Lil $o$o and her girls dancing to the beat. Through a sequence of outfit changes and setting swaps, every essence of Lil $o$o is captured. "I just really wanted a fun and flirty song that makes me feel sexy and in control with a hot video to match." $o$o said.  "It's always a pleasure getting down with my girls and flexing my South Florida roots."
About Lil $o$o
Lil $o$o – born Sofia Donado – is a Palm Beach-based rapper and songwriter. Hailing from humble beginnings, Lil $o$o remains authentic to her South Florida roots, which she depicts through her lyrics, sound and vibe. At 14, she was discovered at a West Palm Beach shopping mall by future manager Melissa Marin. As they began to work closely together, Marin introduced Lil $o$o to Grammy-nominated songwriter, record producer, and artist LunchMoney Lewis. The hitmaker became enthralled with Lil $o$o's show-stopping energy and focused work ethic, and signed her to his record label, Lunchbox Records.
Proving to be unstoppable, the up-and-coming artist has already released three singles in 2023 – "Bunny Hop", "Expensive Taste", "Catch A Trick" – and in 2022, a 14-song mixtape titled, $o$o World, which includes fan-favorite tracks – "Woo Tang", "Bad Attitude", and Issa Rae's personal favorite – "Florida Girl". The comedic actress loved the song so much, she included it in her HBO Max comedy streaming series, Rap Sh!t (2022).
Since the debut of Lil $o$o's mixtape and TV show song feature, she's been covered by distinguished entertainment media outlets, such as PopSugar, Wonderland Magazine and UPROXX. As she's continued to pave her way, she's gained relationships with fellow artists, peers & brands within the music industry, including Kodak Black, as well as rapper Tay Money, who is the featured artist on Lil $o$o's upcoming single – "No Hands". In addition, she's earned sponsorships with notable brands such as Puma Women and Luc Belaire Rosé.
In the year to come, the South Florida songstress has a number of single releases lined up, ultimately leading to the launch of her next recording project, Girl Rap. With a great sum of accomplishments established in a short amount of time, the future looks bright for the Florida Girl.
© 2023, Seth "Digital Crates" Barmash. All rights reserved.