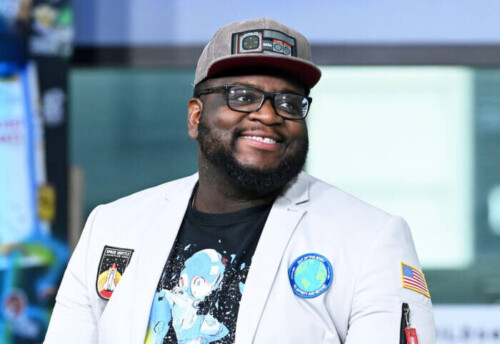 You know him, you love him, you've probably hugged him. 
With more than a decade of touring and professional music-making behind him, Teacher/Rapper/Hero 
Mega Ran
 continues to innovate and reach new heights. 
After four 
Billboard-charting albums, a Guinness World Record, a book, music placements in Clerks III, WWE and AEW television, what could possibly be next? 
"The world of course," Ran jokes from his office, strewn with gifts from fans, wrestling belts and collectibles. "or rather, changing the world we know."
Mega Ran adds, "I wanted to be the change. We see festival lineups and I get inundated with comments and tags like 'BOOK MEGA RAN' and I appreciate it, but what if it doesn't happen? Am I not an important artist if I don't play their festivals? Sometimes you have to take your legacy into your own hands, and have some fun while you're at it."
Enter DREAM MASTER MIXTAPE, a 3 day music festival taking place May 12-14 in Yuma AZ at the Red Moon Ale House, which will boast international acts like AJJ, Futuristic, Playboy Manbaby, Open Mike Eagle, The Codefendants and more.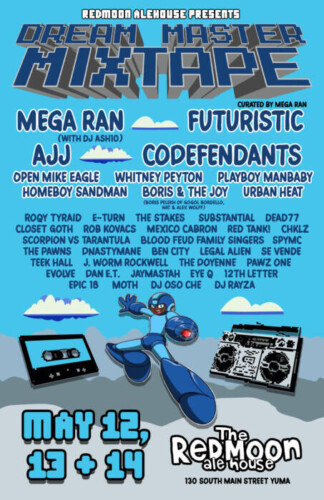 The question he gets every day is simple.. Why Yuma? 
"It's truly an oasis in the desert," Ran says. After playing a show at Red Moon (actually the first ever live show in the venue), he fell in love. 
"Red Moon is my home away from home. The staff, the attention to detail, the hospitality is all so top notch, I just wanted a reason to come there more, and to show all of my performers how dope it was." 
So he came back again and again, until his manager Jeff Moses and venue owner Ramiro Marquez came to an agreement to build the first ever Dream Master Mixtape, curated by Mega Ran. They were cautious not to call it a festival, and that's on purpose. 
"To me, festivals make you think of $17 beers, hot, packed uncomfortable environments, puke filled port-a-potties in the middle of nowhere — and we're the total opposite of that. Dream Master will be small, intimate and cozy. Just you, your friends and your favorite band. Every seat is in the front row."
The pitch was simple: Dream Master Mixtape  – a chance to build an audience and be a part of a scene's real-time growth in a city hungry for something new. The artists came, and the event grew. It's now time to make it happen.
Dream Master Mixtape takes place May 12-14, 2023 and features
Mega Ran, Futuristic, AJJ, The Codefendants, Playboy Manbaby, Open Mike Eagle, Urban Heat, Whitney Peyton, Homeboy Sandman, Boris & the Joy, E-Turn, Roqy Tyraid, Se Vende, Dead 77, The Pawns , Mexican Cabron, Closet Goth, Substantial, The Stakes, Red Tank!, Chklz, Scorpian Vs Tarantula, Blood Feud Family Singers, SpyMC, Pawz One, Evolve, The Doyenne, Dnastymane, Legal Alien, Teek Hall, Ben City, J. Worm Rockwell, Dan E.T., ACRZ, Jaymastah, EyeQ, 12th Letter and more. details at redmoonalehouse.com.
FEATURED ARTIST
FEATURED ARTIST
© 2023, Seth "Digital Crates" Barmash. All rights reserved.