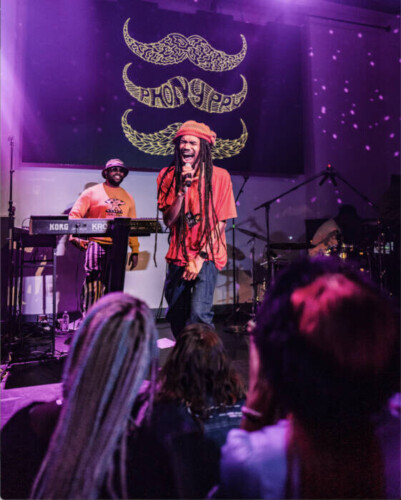 PHOTOGRAPHER CREDIT: @drivenbycontent (Dervon Dixon)
 Last week, on December 28 and 29, prominent Brooklyn-based quintet Phony Ppl celebrated the release of their latest LP, Euphonyus, with an exceptional two-night performance at legendary music venue Sounds of Brazil (SOB's). Arranging an alluring set list compiled of hits from their latest project along with tracks from their revered Yesterday's Tomorrow (2015) and mō'zā-ik (Mozaik) project (2019), Phony Ppl amazed audiences for both nights as they ended the 2022 year with feel-good funk & soul.
Since the release of their studio project Euphonyus, acclaim for the project continues to achieve new highlights. Rated R&B deemed the project as one of the 'Best R&B Albums of 2022,' furthermore sharing, "the Brooklyn-based quintet's third album, Euphonyus, is an exuberant fusion of ear-pleasing tunes bound to inspire movement; it's more groovy and sweaty than their past works. The glossy instrumentation on Euphonyus is paired with lyrics that reflect vignettes of love, loss and everything in between." NPR highlighted one the stand-out tracks "been away." and shared "Phony Ppl always greets listeners with open arms — serenading them with a warm blend of R&B, jazz and hip-hop sounds. On "been away.," off its newest album Euphonyus, the Brooklyn-based band joins strings and the piano. A swooning, melodic force anchors the song without overwhelming it; drumbeats hold an adagio pace steady, while bass guitar quietly strengthens the track's rhythmic pulse." Given the genre-bending nature of the band's artistry, Euphonyus received a range of acclaim from wide-ranged of outlets.
STAY IN TOUCH WITH PHONY PPL
INSTAGRAM | YOUTUBE | TWITTER
© 2023, Seth "Digital Crates" Barmash. All rights reserved.