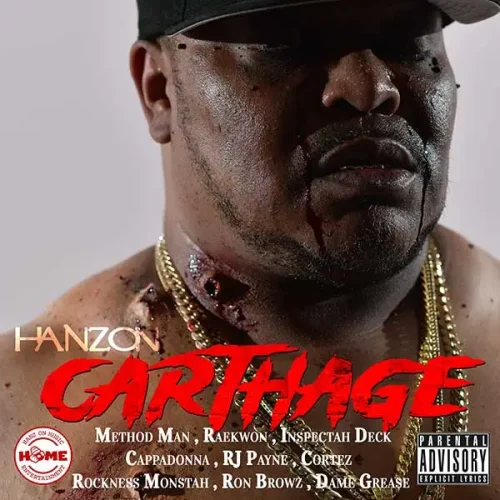 For the past several years, Hanz On has amassed a large network of hip hop icons and accolades alike. As a prominent figure in the music industry, Hanz On has blossomed into a key Wu-Tang affiliate, working closely with a variety of its members such as Method Man, Cappadonna, and Raekwon, to name a few. Since initiating his music career, Hanz On has embarked on a journey of developing, what he calls, a trilogy.
In 2013, Hanz on unveiled, "Method Man Presents: Hannibal The Great". This project created a frenzy among his fan base. Following the out pour of support from hip hop lovers worldwide, Hanz On unleashed, "Barca" in 2017. In 2021, Hanz On co-produced "Methlab 3" which sparked his desire to continue creating music as an artist.
So far, Hanz On has released two singles from his upcoming project, "Carthage". The catchy single, "It's Real" featuring Cappadonna premiered in September followed by "All Fire" featuring Method Man and Iron Mic. Thus far, Hanz On has been making headlines throughout the media with all positive reviews. The anticipation for the upcoming project can be felt throughout the music scene.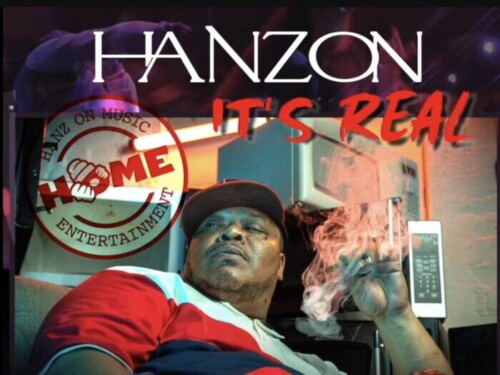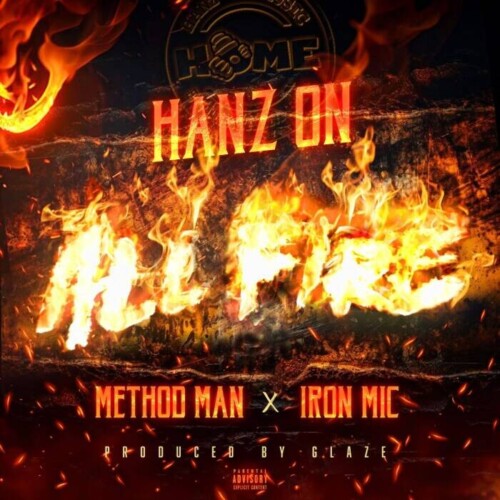 In honor of "Carthage", Hanz On's team has organized an album release party, set for December 2nd at the famous venue SOB's in NYC. A number of special guests will be in attendance including the aforementioned hip hop legends.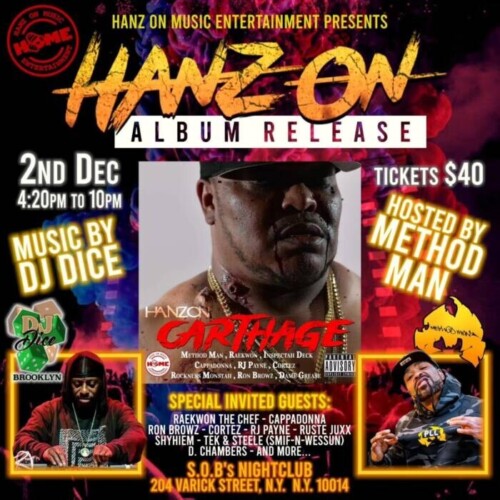 The event is said to be the biggest party in the last quarter; a perfect fit for an amazing album. Hanz On named his favorite track on the project as, "Why Me". He explained, "It's my favorite because it speaks to my journey up to this point. It gives me inspiration to continue. The song is based on actual events that shaped me into the man I am today."
Due to all the success Hanz On has experienced, he was asked what advice he had for other artists. He explained, "Trust your own ear and don't let anyone dictate what your definition of hot is or what you think is dope." Hanz On has always remained true to himself, exploring and displaying his authenticity. Moving this way has warranted him a large and loyal fan base which looks forward to seeing him bless every stage he performs on. He has toured globally with Wu-Tang, flourishing as a hip hop artist and now, "Carthage" is set to hit the airwaves on November 24th!
Below you will find the official trailer for the album! Be sure to subscribe to Hanz On's YouTube channel!
CLICK HERE TO CHECK OUT HANZ ON'S OFFICIAL WEBSITE FOR ALL SOCIAL MEDIA, MUSIC, MERCHANDISE, AND MORE!
© 2023, Julz Mancini. All rights reserved.