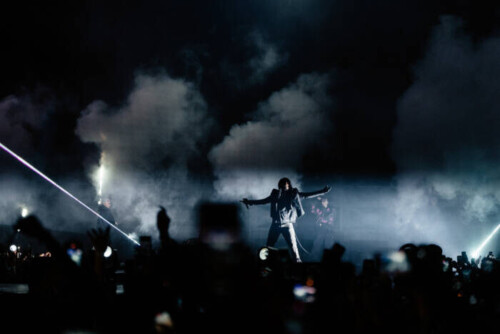 Playboi Carti headlines his first festival
(Credit: Rolling Loud / @itchyeyephotos)
Bringing in hundreds of artists and tens of thousands of fans to events in cities around the globe, Rolling Loud is rap music's most iconic stage. The world's largest rap festival's return to Los Angeles County, Rolling Loud California 2023 kicked off with a bang on a beautiful Friday in Hollywood Park, the state-of-the-art entertainment complex in the heart hip-hop historic Inglewood.
The festival's first action-packed day, brought performances from some of the most exciting names in rap, including Playboi Carti, who debuted a new song and performed with the energy and spectacle that befits a headliner. Beyond King Vamp, the day included sets from fan favorites like Chief Keef, Ski Mask The Slump God, and Tyga. Artists from Carti's OPIUM label made a splash, with back to back sets from Destroy Lonely and Ken Carson. Dark trap icons Bones, Xavier Wulf, and Eddy Baker shared the stage, while leading ladies like Saweetie, Bktherula, and Kamaiyah made their presences felt.
As always, Rolling Loud brought out a cavalcade of surprise guests, adding to the already-high excitement level and allowing fans to see their favorite songs performed in full. Tyga invited his fellow L.A. native YG to the stage, delighting the hometown crowd. Saweetie brought out West Coast legend Too $hort to perform "Blow The Whistle," Rich The Kid performed his set alongside his running mate Jay Critch, Ski Mask The Slump God invited fellow Floridians Luh Tyler and Danny Towers to perform their new song "Florida Water," plus many more surprise names popping up.
Check below for photos of some of the most memorable moments from the festival, view a full complement of photos at the Dropbox below, and be sure to follow Rolling Loud on Instagram for even more highlights.
Stay tuned throughout the weekend for more sets, and more surprise guests, and check out the livestream on Twitch, YouTube, and RollingLoud.com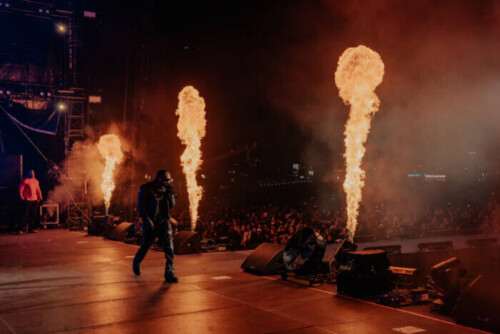 L.A. native Tyga always puts on an exciting show (Credit: Rolling Loud / @jessicapadover )
© 2023, Seth "Digital Crates" Barmash. All rights reserved.