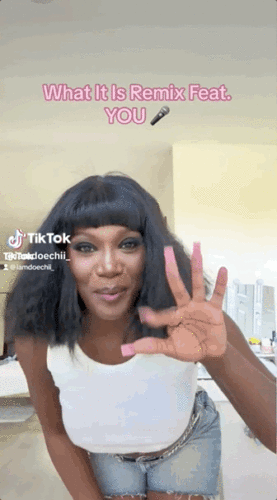 TikTok has been an equalizing force in hip-hop music, acting as a launching pad for the new generation of female rap stars. Artists like Ice Spice, GloRilla, Big Boss Vette, and many others used TikTok to market their music and score massive hits. A scan through the Billboard Hot 100 reveals recent songs by three female rappers–Doechii, Kali, and Sexyy Red–that popped on TikTok before climbing the charts.
Born and raised in Tampa, Florida, Doechii used TikTok to show off her impressive artistry, blowing up in 2021 with her song "Yucky Blucky Fruitcake." The song racked up over 435k video creations, inspired TikTok to name her one of the year's breakout stars in 2021, and helped her earn a deal with acclaimed rap label Top Dawg Entertainment. Doechii is back trending on TikTok this year with "What It Is (Block Boy)," a collaboration with Kodak Black, which has over 2.4 million creations on TIkTok to date (a solo version of the song has over 914k creations). Interpolating Trillville's "Some Cut" and showing off Doechii's stellar vocals, "What It Is" inspired a viral dance, choreographed by @itsairacasim, and struck a chord with creators who wanted a fly song to lip sync with a grainy filter, or soundtrack their wetsuit mishaps. The song currently sits at #77 on the Billboard Hot 100, but Doechii isn't resting on her laurels–the 24-year-old artist recently kicked off a "What It Is" #openversechallenge, welcoming her fellow creators to add their melodies, rhymes, or melodic rhymes.
On the less wholesome end of the spectrum lies Sexyy Red, a St. Louis native whose song "Pound Town" has become the X-rated song of the summer. Since its release in early January, "Pound Town" has become an anthem for single ladies across the USA, racking up over 144k video creations and peaking at #7 on TikTok's weekly trending charts. The Tay Keith-produced "Pound Town" has earned co-signs from the likes of Cardi B, GloRilla, and more, notching its biggest co-sign yet when Nicki Minaj hopped on the "Pound Town 2" remix. "Pound Town 2" sits at #66 on the Hot 100, after reaching #1 on iTunes over the weekend. On TikTok, Sexyy Red is doing her part to make Summer 2023 a Sexyy Summer, popping champagne as she previews new music, teaching toddlers inappropriate words, and duetting videos from her fans.
Kali has the highest-charting hit of these three breakout rap stars, with her song "Area Codes." The Atlanta rapper first turned heads on TikTok in 2020 with her song "Do A B*tch" (190k videos), breaking out even further in 2021 with "MMM MMM" (540k), which eventually inspired a remix featuring Latto and Moneybagg Yo. First revealed in a casual video on TikTok in February, just in time for Valentine's Day, "Area Codes" has grown into a major TIkTok hit, soundtracking hairstyle glow-ups, makeup transitions, and much more. The song is a particular favorite of LSU basketball star, Angel Reese, who has used the song in multiple videos. With over 540k videos to date, Kali's "Area Codes" reached #33 on the Billboard Hot 100, as Kali takes to TikTok to explain the song's lyrics, hang with Sexyy Red, and take the "Area Codes" quiz (she made the song and didn't get a 100?).
These three examples barely scratch the surface of rising female rappers who found a home on TikTok–pay attention to Maiya The Don, iCandy, Lay Bankz, and many more, who easily could reach the Hot 100 in the near future.
© 2023, Seth "Digital Crates" Barmash. All rights reserved.