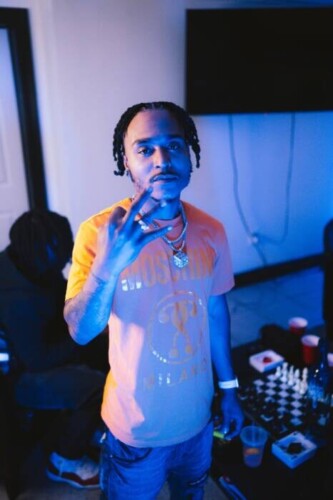 In the vast world of hip-hop, where stage presence is dominated by larger-than-life figures, one artist is bucking tradition. Meet Big Chi, a rapper from the Flatbush section of Brooklyn, whose talent rises beyond height and explodes with boundless fire.
Big Chi, actual name Brian Thompson II, embodies tenacity and perseverance. Although he stands just 5″5″ tall, despite his artist name giving the impression otherwise, he more than makes up for it with undeniable charm and unwavering drive.
When Big Chi was growing up in the challenging Flatbush communities, life threw him several curveballs. His musical career was sparked by tragic losses, including the passings of his biological father in 2011 and his stepfather Peezy in 2008. He turned to rap as a means of expression while avoiding risky ones out of rage and the urge to blow off steam.
Everyone laughed at Big Chi's early-performance stumble during a performance. Think of a stage, a watchful audience, and an unexpected loss of poetic memory. He successfully improvised by switching between adlibs and some lip-rapping without tripping since he is a true artist on the fly.
Big Chi painted his life's story into the canvas of his songs with rough strokes. The honesty of his experiences gives his work a unique quality since so many other people have had hardships similar to his. He firmly encourages individuals to embrace their life's journey without succumbing to pretence and urges them to be real.
The core of Big Chi's ideology is family. He thanks his wife, the mother of his children, and his grandmother for their unwavering support during his journey. He constantly praises those who helped him through his challenging periods in life, wearing it like a badge.
Big Chi is a glimmer of optimism in a society that often romanticised hardship. He discusses his experiences in order to assist others in developing better judgement and the stamina to persevere. His straightforward yet profound advice is to "live life, get money, show love, and expect nothing."
Looking forward, Big Chi envisions a day when his music is enjoyed by large audiences in stadiums. Change, dependability, and an unwavering will to succeed are his three favourite things.
Big Chi stands apart in the hip-hop scene, where the spotlight often favours the strong and large, because of his skill and uncompromising moral integrity. His story serves as evidence that sometimes the strongest things are contained in the tiniest containers. Be on the lookout for this burgeoning artist; his career will undoubtedly be as vibrant and thrilling as his music.
© 2023, Logan. All rights reserved.