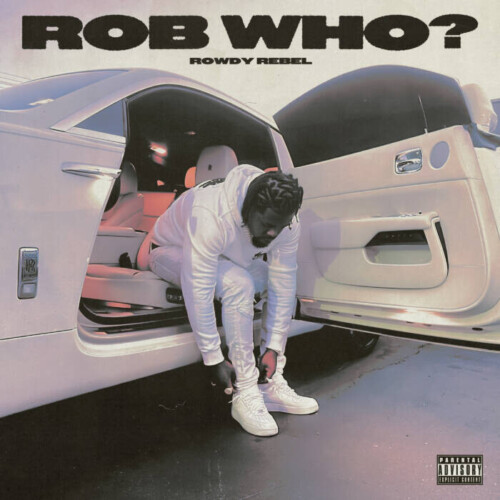 Always putting on for his city, Rowdy Rebel is a totemic figure in the history of New York drill. Traveling to sunny Los Angeles but still running the NYC scene, Rowdy shares "Rob Who?," an intense new video single. Powered by a paranoid beat by Bay Area production team Bankroll Got It, "Rob Who?" finds Rowdy working a fast-paced flow with his gruff-voiced delivery. The Brooklyn native effortlessly swats away the pests who would dare to step to the top dog, giving a stern warning to anyone itching to make a fateful mistake. In the video, directed by JAL, Rowdy travels from his home state to California, handling business from his phone as he drives his foreign down the freeway. "Rob Who?" is the latest in a series of hard-hitting videos from the East Flatbush native, following "Posture," his latest collaboration with Fetty Luciano and Fivio Foreign, and the heartfelt "RIP TDOTT."
A major player in the New York scene for nearly a decade, Rowdy Rebel's super-charged, energetic style of rap never fails to live up to his name. After bursting onto the scene in 2014 with his Bobby Shmurda-assisted breakout hit, "Computers," which Rolling Stone ranked #94 on their list of "The 100 Best East Coast Hip-Hop Songs of All Time," Rowdy released his first solo mixtape, Remain Silent, in 2015, followed by 2016's Shmoney Keeps Calling, with appearances from Lil Durk, A$AP Ferg, Rich The Kid, and many more.
Last summer, Rowdy made a full return to music with Rebel vs. Rowdy, his first full-length effort in half a decade, which featured guest verses from A Boogie Wit da Hoodie, Fivio Foreign, French Montana and more. The 17-track Rebel vs. Rowdy arrived on the heels of Rowdy's high-profile guest appearance on Pop Smoke's "Make It Rain." Late last year, Rowdy blessed stages alongside fellow Brooklynite Bobby Shmurda on "The Bodmon Tour." In April, Rowdy released Splash Brothers, his joint project with Fetty Luciano, featuring recent singles like "We On It" featuring DBoyLo, and "Whamm."
Now signed to GoodTalk, Rowdy Rebel hopes to expand his kingdom in the Five Boroughs and beyond. Stay tuned for much more from the Brooklyn native as the summer progresses!
© 2023, Seth "Digital Crates" Barmash. All rights reserved.