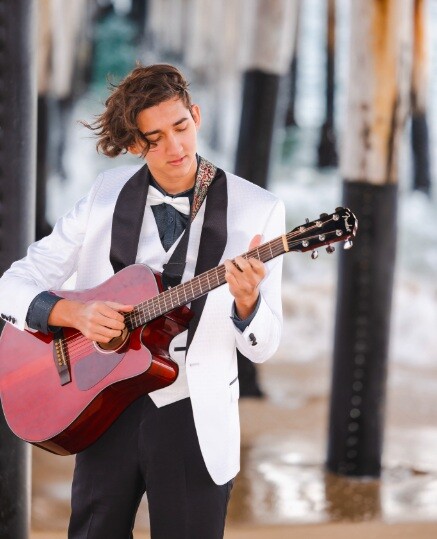 In the vast ocean of emerging talent, one name stands out with a brilliance that demands attention: Sage Sam. At just 16 years old, this young musician has already begun to make waves in the music industry. With his exceptional musical abilities, undeniable charisma, and a refreshing approach to songwriting, Sage Sam is quickly establishing himself as an artist to watch out for. This article delves into his unique musical journey, highlights his promising talents, and explores the reasons why he is poised for great success.
From a tender age, it was evident that Sage Sam possessed an extraordinary musical gift. Blessed with a soulful voice that carries an emotional depth well beyond his years, he captivates audiences with every note. Coupled with his prowess on guitar and piano, Sage Sam effortlessly weaves melodies that resonate with a raw authenticity, drawing listeners into his musical realm.
What sets Sage Sam apart is his ability to infuse his music with a fresh and unique perspective. As a gifted songwriter, he fearlessly delves into the depths of human emotion, creating narratives that touch the hearts of his listeners. Sage Sam's lyrics are a window into his soul, addressing universal themes of love, self-discovery, and personal growth. His ability to express vulnerability and introspection through his music sets him apart from his peers and positions him as an artist with substance.
Sage Sam's talents have not gone unnoticed. His dedication and commitment to his craft have garnered attention from industry professionals and fellow musicians alike. With each release, his music resonates with a growing fanbase that appreciates his artistry. Sage Sam has already caught the attention of renowned platforms such as CD Baby and Amazon Music, indicating that his star is on the rise.
One of the hallmarks of Sage Sam's musical journey is his captivating live performances. Despite his young age, he possesses an innate ability to command the stage and captivate audiences with his magnetic presence. Whether he's performing an intimate acoustic set or delivering an energetic performance with his band, Sage Sam's stage presence and engaging interactions with the crowd leave a lasting impression.
With his undeniable talent and an unwavering dedication to his craft, Sage Sam's future is teeming with promise. He continues to push boundaries and explore new musical territories, constantly honing his skills as a songwriter and performer. Sage Sam's upcoming projects are highly anticipated, and fans eagerly await the release of new music and the chance to experience his captivating live performances.
Sage Sam's meteoric rise in the music industry is a testament to his exceptional talent, dedication, and passion. As an up-and-coming musician, he possesses the rare ability to create music that resonates on a deep emotional level, forging a genuine connection with his listeners. With every song and performance, Sage Sam leaves an indelible impression, inviting audiences into his world and inviting them to share in his journey of self-discovery. As he continues to evolve as an artist and make his mark on the music scene, Sage Sam is undeniably an artist to watch out for. Keep an eye on this young prodigy as he embarks on a musical odyssey destined for greatness.
Follow Sage Sam on his various social media platforms using the handle @Sagesammusic. With each new release and performance, Sage Sam is poised to captivate audiences and solidify his place as a rising star in the music industry.
Instagram: https://www.instagram.com/sagesammusic/

TikTok: https://www.tiktok.com/@sagesammusic

Spotify: https://open.spotify.com/artist/1DfajICHw7TuLzZIpdxsi8?si=zdOeBvwQR8Crxusv3JOQSw

Apple Music: https://music.apple.com/us/artist/sage-sam/1626355815

With Koji: https://withkoji.com/@sagesammusic
© 2023, StanleyGatero. All rights reserved.