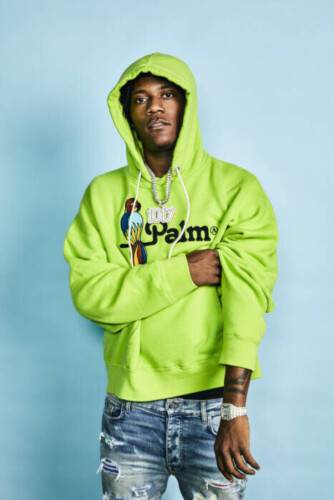 Sett just dropped his latest release "Spinning" featuring Co3. The track was released via 1017 Global Music/Atlantic Records.
On "Spinning," a track produced by TP808, Sett delivers an infectious beat and bravado lyrics that fans have come to love from the 1017 artist. The Memphis native continues to push boundaries with his unique style and creates a fresh, innovative sound that music enthusiasts gravitate towards.
Sett also unveiled the visuals to the track. The video shows Sett surrounded by a his friends and bunch of women flaunting money and partying, while also featuring a cameo from fellow Memphis artist Big Homiie G. This dynamic collaboration showcases Sett's signature sound combined with the talents of Co3, creating an electrifying musical experience.
Sett's been on a hot streak with his musical releases, offering fans a sneak peek of what's to come with his debut mixtape Life of a SlimeCrook. His track "Teamo" was released just a week after dropping "Call My Bluff." In June, Sett reached a milestone with his song "Snap" being his highest streamed song and was No. 1 on Spotify's Memphis Local Pulse chart. Prior to "Snap," Sett dropped "Piss Sett Off" which has over 5 million streams to date, was No. 1 on Spotify's Local Pulse Memphis chart, landed at No. 52 on Spotify's Top Songs Memphis and was the No. 1 Shazam in Memphis.
Sett is a rapidly improving newer artist signed to the new 1017 Records. His skills as a lyricist are balanced evenly with his wordplay and versataile flows. His music has balance and substance which is a rare combination for newer artists that are still experimenting with their sound. His unique voice alone shines through all this with a passion for his craft its evident that Sett is prime for a major 2023 and beyond.
He started taking music seriously as a legacy and a sense of direction. Along with his music he prides himself and his team on doing solid business and manuevering properly around the industry. His music is authentic and true to self. He promises to keep working hard, thanks his fans, and is about to drop a lot of new music soon!
The Memphis native is proving he's the real deal while solidifying his spot in the Memphis rap scene with co-signs from fellow Memphis peers, Finesse2Tymes, NLE Choppa and Moneybagg Yo.
© 2023, Seth "Digital Crates" Barmash. All rights reserved.