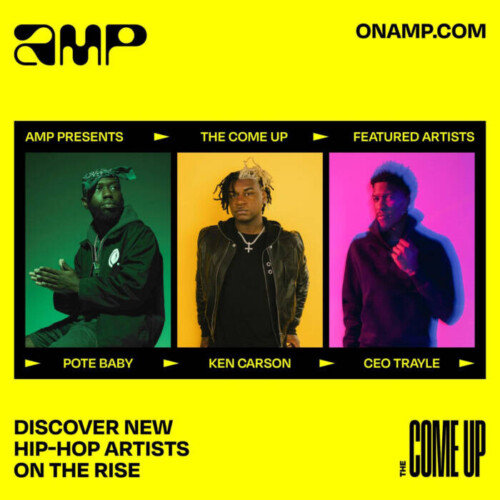 Amp, the live radio app from Amazon, announced entrepreneur/recording artist Pote Baby, prolific rapper and CEO/founder of 1080 Trademark Records CEO Trayle, and melodic rapper Ken Carson as the first group of rising Atlanta talent identified by The Come Up — Amp's new emerging artist program bringing communities together via live audio to discover and help break rising artists. Starting with Pote Baby, Amp also debuted the first in a series of three mini documentaries developed and directed by Atlanta-based creative visionary Cam Kirk. The series will be released throughout the summer and explore each artist's personal story and rise. Fans can check out the first episode featuring Pote Babyhere, and learn more about the artists and The Come Up program here.
Following the launch of The Come Up in June, fans were encouraged to create their own live radio shows or tune in on Amp to surface and debate today's hottest rising hip-hop artists coming out of Atlanta. Amp collaborated with veteran industry executive Kenny Burns to curate an influential group of tastemakers in music and culture to help ignite conversation on the app. Show hosts included Burns, as well as multimedia personalities Big Bank, Paige Shari, and Su Solo; and artist and producer DJ Kash. A month later, tastemaker hosts and Amp selected three of the most promising rising Atlanta hip-hop artists to spotlight as part of The Come Up. 
As the three selected artists, Pote Baby, CEO Trayle, and Ken Carson will receive promotional support across Amazon Music and Amp. In addition to being featured in the Cam Kirk docuseries; each artist will receive opportunities to be interviewed on fan-favorite Amp shows such as The Daily Cannon with Nick Cannon and Rotation Radio with Gabe P and Nyla Symone, and inclusion on "The Come Up" playlist on Amazon Music. 
"The A has it all — artists that sing, rap, and dance, and rappers that are actual rock stars!" says Kenny Burns. "Fans have been gathering live on Amp to weigh in on their favorite new artists in the Atlanta hip-hop scene, and we're excited to highlight CEO Trayle, Ken Carson, and Pote Baby as part of The Come Up because they represent this new wave of diverse talent rising up in the city today."
"I grew up seeing Trick Daddy, Wayne, and Camoflauge represent the ghetto and the south in a fly way, so it's dope to get a chance to do the same thing for the next generation," says Pote Baby. 
"I'm excited to be part of an opportunity that highlights emerging artists from my city," says Ken Carson. "Atlanta's always had the best sound in music and I'm happy to be a part of that. We're not stopping anytime soon."
"It's always good to see what new artists are on the rise," says CEO Trayle. "The artists coming up out of Atlanta today are embracing their own style and staying true to themselves."
Fans can continue to join The Come Up discussions today live on Amp by dropping into The Come Up shows, or creating their own shows using the tag #TheComeUp to debate their favorite artist on the rise. Additionally, from August 2 – August 6, fans on the app on iOS can navigate to the "Hip-Hop and R&B All Day" channel to check out a 24-hour stream of replayed The Come Up shows together and discuss live in the chat. 
Amp is the place where access to music and entertainment culture is being reshaped, with a variety of live and interactive programs. As an app where anyone can create their own live audio shows using just their phone, programs on Amp have featured a diverse range of emerging and established hosts across the talent spectrum, including artists Nicki Minaj, Halsey, NBA YoungBoy, and Joe Budden; NBA star Draymond Green; and multi-hyphenate Nick Cannon.
Download Amp here, and visit The Come Up page for full info on how to participate. 
 Built to reinvent radio, Amp allows anyone to DJ their own live radio shows for free using just their phones, alongside some of the biggest names in the industry. Content creators can use a catalog of tens of millions of licensed songs while engaging with their community in real-time—no subscription, additional hardware, or editing skills needed. Programming on Amp spans music, entertainment, sports, and beyond featuring shows like Nick Cannon's The Daily Cannon, Nicki Minaj's Queen Radio,Joe Budden's Conversation Lovers Only and Music Lovers Only, Halsey: For the Record, and The Zach Sang Show. 
Fans in the U.S. can download Amp here or ask Alexa, "play Amp" on Alexa-enabled devices. To learn more, head to the Amp website and follow Amp on Instagram, Twitter, and TikTok.
© 2023, Seth "Digital Crates" Barmash. All rights reserved.