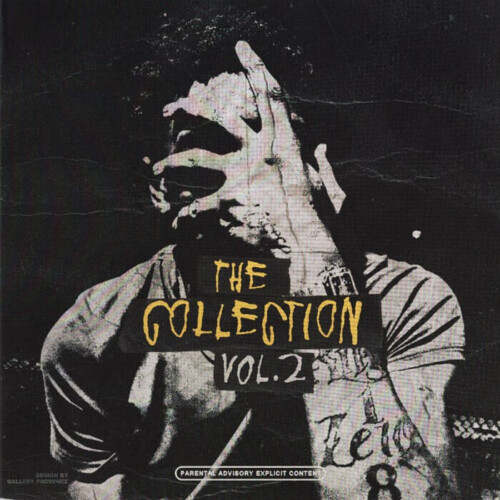 Creeping over atmospheric instrumentals with his inimitable lyrical acumen, CEO Trayle is one of one. Dropping his latest offering one day before the scheduled date (April Fools!), Trayle serves up The Collection Vol. 2, his new project. Over the course of 12 tracks, The Collection Vol. 2 further explores the haunting, yet luscious trap sound he explored on his acclaimed HH5 mixtape, featuring rich contributions from producers like Trauma Tone, B.Stribb, and Yung Icey. On "Ain't Yo Business," Trayle proudly proclaims his bachelorhood over a mournful classical violin; on "Substance," Trayle indulges in his every vice over dramatic keys and minor-key saxophone; the effortlessly classy "Withdrawals" brings back the classical strings, an ironic, yet appropriate accompaniment for Trayle's perky-fueled situationship drama. Throughout the tape, Trayle creates a world fit for a film noir, filled with femme fatales and danger around every corner.
The follow-up to last year's The Collection, an 8-song mixtape home to highlights like "Of Course," The Collection Vol. 2 shows how far the Atlanta-based rapper has come in the past year. The Collection Vol. 2 is home to "Brody Trippin," a collaboration with PDE signee and rising Atlanta star Baby Drill, "CrxckFlow II," a sequel to a highlight from HH5, and the viral "Song Cry," originally released as a From The Block freestyle that racked up over 3.1 million views. The Collection Vol. 2 is available everywhere via Do What You Love/10K Projects.
2022 was a breakout year for CEO Trayle, packed with critical acclaim and new commercial landmarks. The rapper known as "Mr. Back Door" ended the year on a high note, sharing HH5, which Pitchfork ​​blessed with its coveted Best New Music designation. HH5 establishes Trayle as one of the slickest talkers in a stacked ATL scene, twirling his soft-spoken and erudite delivery like a cartoon villain twirls his mustache. HH5 features some of Trayle's most expansive production to date, with contributions from Dun Deal, OG Parker, Go Grizzly, Trauma Tone, and Trayle's frequent collaborator Stribb, among many others, and is home to the complicated relationship anthem "I Love You But…," featured on Drake's OVO Sound Radio. HH5 capitalized on the momentum generated by Trayle's viral 2021 hit "Ok Cool," which generated over 60 million streams and earned a remix from Gunna.
With The Collection Vol. 2 in the books and much more music to come, CEO Trayle is primed to take over the rap game.
© 2023, Seth "Digital Crates" Barmash. All rights reserved.