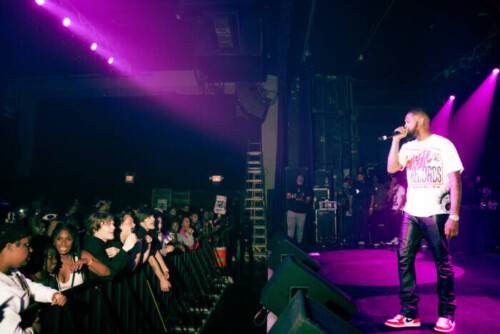 Photo by @WavyBasquiat
In a remarkable culmination of a weekend filled with hometown glory and live music, DOPE Shows, the #1 independent Concert Promotion Agency in Philadelphia, New Jersey, and Delaware, achieved a resounding success by selling out the Theatre of Living Arts for the TOURE Album Release Concert in partnership with Live Nation.
The venue pulsated with an overwhelming sense of pride as West Philly's own TOURE took center stage, captivating an exuberant crowd brimming with Brotherly Love. Proving himself as a leading force in Philadelphia's rap culture, the DOPE Records artist performed for 1.5 hours boasting an impressive catalog and undeniable mainstream appeal. Affectionately referred to as The Biggest West-Sider, he dominated the stage with confidence, swagger, and the demeanor of a superstar as his cult fanbase clung to every word of his songs. TOURE floated through track after track including "Out West" from World Toure, "A.T.R.N." from Only 4 The Trenches, "Game Time" from Hood Poetry, "Kisha" from ALL I WANTED WAS EVERYTHING, and closed out the show with "Federal" as the crowd roared.
Although the concert was a celebration for TOURE's new project ALL I WANTED WAS EVERYTHING which landed on the Top 40 of Apple Music's HipHop album chart and received praise from Armani White, James Harden, Meek Mill, Tee Grizley, Tiarra Whack, and more – it felt like a homecoming amplifying the bubbling potential of the city's rap scene. As prominent DJ, Aye Boogie, kept the vibes flowing through the speakers, multiple special guests hit the stage including Nick Gotti, Ki From Jerome, Sheed TS, Kay Glizzy, and YP Slumboy. There was also a touching tribute to RIAA multi-platinum artist PNB Rock, further underscoring the communal essence of the event. Heads buoyantly nodded and arms excitedly swayed in the air as the diverse crowd spanning all generations and backgrounds reveled in the electrifying atmosphere as the room's energy enveloped them.
As the saying goes, "Ain't No Show Like a DOPE Show."
DOPE Shows has become one of the most powerful independent concert promotion companies in the U.S. due to their instinctive business savvy and an eye to bring era-defining artists to the local stage while they're still on the come up. Harnessing this incredible foresight, next they bring Rylo Rodriguez to Philadelphia for his first headlining concert in the market. He will be performing his Been One album release concert at The Fillmore Philadelphia on September 29. Tickets are available to purchase – HERE.
With a legacy that spans over six years, DOPE Shows have sold over 200,000 tickets for illustrious shows headlined by luminaries such as Lil Baby, Lil Durk, A Boogie Wit Da Hoodie, Gunna, G Herbo, and more, becoming stepping stones for emerging superstars and bridges for the performers and the local fans that want to see them.
© 2023, Seth "Digital Crates" Barmash. All rights reserved.