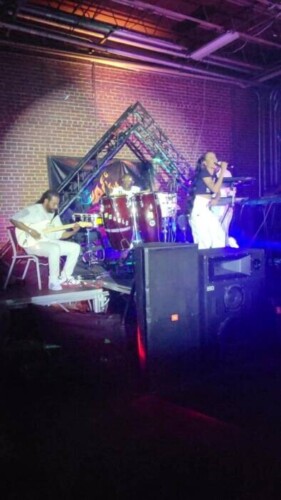 Keepers of the truth…
Go-Go music is one of the few purest art forms of black music in our culture. From Rare Essence to EU to The Backyard Band to the Godfather, Chuck Brown, himself.
Throughout the years, Hip Hop and R&B music have borrowed from Go-Go to create classics but left the progeny behind to only be embraced by the homegrown people of DC, where its inception has been preserved. From Dougie Fresh, Parliment Funkadelic, KRS 1, African Bambatta, Kirk Franklin, EVE, Jill Scott, Kerri Hilson, Migos, Jazzy Jeff and The Fresh Prince, Fantasia, Jay-Z, and the list goes on and on, etc., etc.
The OG Shadi Powers sat down with the new but old collective of Go-Go champions to discuss their objective for the culture and their new music and their fearless leader is a black woman named Nafisah.
Check out the interviews:
What's the signifcance of your name?
I was named Nafisah by my father, I am Muslim, I come from a Muslim family. It's pronounced Nah-Fee-Suh. My name can be translated into Arabic meaning Precious, or Swahili meaning Of Infnite Value… and I AM NAFISAH.
What's the signifcance of the band's name?
The signifcance of the name is in the comparison of someone photobombing a picture. So in that instance, Photobomb Band brings a sound, a crank and style of music that is unexpected .
What city do you hail from?
Washington, D.C. "All Day – No Cap" #NotThe DMV!
How are you going to approach the game as an artist?
Thoughtfully and with Purpose
And how are you going to broaden the appeal to go-go in the game as an group?
Like so many before us in the culture and many genre's of black music, we are going to bring back excitement of live original entertainment.
Whom would you say are your greatest infuences in music today?
Infuences? Truthfully I'm not really infuenced by any of today's music. Like most of today's music my infuences are from songs of yesterday. However I do like Queen ReRe, I'm defnitely a fan.
What are of the names of the band members and who are some of legends you've worked with in go-go music?
Nafisah (Lead Vocals) / Was a member of EU for 3 yrs (Da But). Was a member of Pure Elegance for 5yrs (1 Leg Up), Was featured in Trouble Funk for 3yrs (Drop Da Bomb), I've worked with Buggs from JunkYard Band (Sardines and Pork and Benas), Funk from Rare Essence (Overnight Senerio), Dj Kool (Let me Clear My Throat) etc. Terry Battle (Back ground vocals),
Quentin Bullock (Vocals),
Charles Ransom (Keyboard),
Antonio Williams (Keyboard), Worked with legends like Chuck Brown, Big G, Backyard Band, Air Rayde etc.
David Gussom (Lead Guitar) Owner of GOFF Records and Entertainment. Wrote produced and played lead guitar, and Producer of DC#1 Hits Cat in Da Hat, Lil Benny and the Masters, Wrote produced and played lead guitar on hits like Misty, Chuck Brown. Played Lead Guitar and Produced music for EU. Lead Guitar of Trouble Funk, was a member of Pure Elegance etc.
Thomas Harvey (Congas and Timbales / Percussions)
Timothy Richard (Drummer).
Whom would you say are your greatest infuences in go-go today?
We would be amiss if we did not start with whom we consider to be the Godfather of Go-Go Music Chuck Brown although gone his infuence lives on throughout the Genre. Backyard Band, Black Alley, What Band, Beladona.
What are you bringing new to the game for the culture?
We are bringing a side of the culture of GoGo that only exists to the underground natives of Washington DC to the world. We are bringing diversity, innovation and new energy to the culture!
Explain the new single and what's your current project.
Our New Single Hey Ma Ma is a Remake of Nikki Minaj and David Guetta's Hey Ma. We thought the song would be a great way to introduce not just DC but the world to Photo Bomb and invite them to our party, we fipped it of course and gave it a little Latin favor with a whole lot of Go-Go.
We are currently about to release our New single Beautiful on all platforms. Beautiful was written by Nafisah and is a representation of everything that is Black, Music and beautiful.
We are also currently working on a Go-Go version of Lift Every Voice and Sing set to be released on Juneteenth (June 19th)
Fans and followers can fnd everything about Nafisah and Photo Bomb on social media?
https://www.facebook.com/Fisaface
https://www.facebook.com/NAFISAHTHEDCDIVA
https://instagram.com/fisaface
https://www.TikTok.com/@NafisahTheDiva
https://twitter.com/NafisahTheDiva
https://www.youtube.com/WeArePhotoBombBand
https://www.facebook.com/PhotoBombBand
https://www.WeArePhotoBombBand.com
https://instagram.com/WeArePhotoBombBand
https://www.TikTok.com/@WeArePhotoBombBand
https://twitter.com/WeArePhotoBombBand
https://www.TikTok.com/@NafisahAlmahdi
© 2023, Logan. All rights reserved.