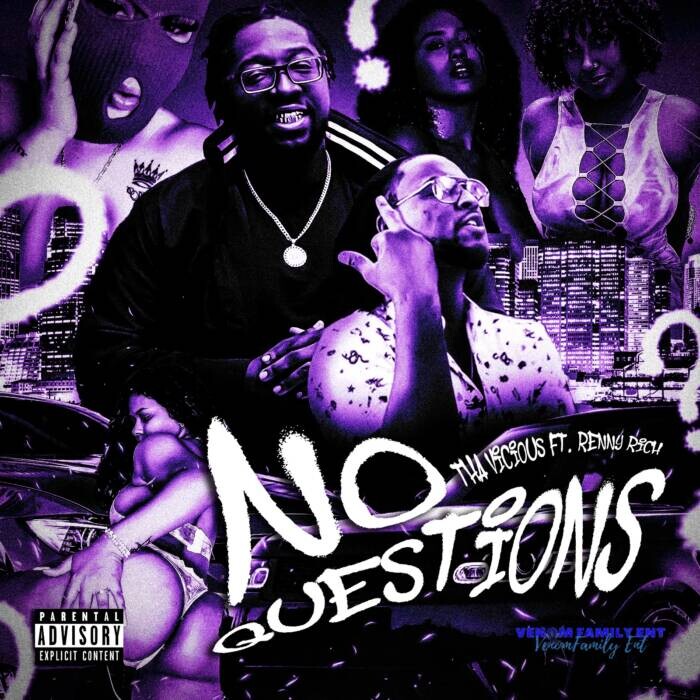 Tha Vicious and Renny Rich, two rising stars in the rap game, have joined forces to release a game-changing trap anthem that is set to take the Florida hip-hop scene by storm. Their collaborative track, "No Questions," combines hard-hitting beats, infectious melodies, and captivating lyrics, creating a musical masterpiece that demands attention. In this article, we delve into the bios of Tha Vicious and Renny Rich, their meeting through the acclaimed producer/artist engineer Primo the Genius, and why their music is poised to shape the future of Florida hip-hop.
Tha Vicious has been making waves in the music industry with his unique sound, versatile style, and exceptional lyrical ability. Hailing from the vibrant rap scene in Florida, Tha Vicious has quickly gained recognition as one of the most promising artists in the region. With a remarkable ability to seamlessly switch between hard-hitting rap verses and melodic hooks, Tha Vicious captivates listeners with his raw energy and commanding presence on the mic.
Tha Vicious developed a passion for music at a young age. Drawing inspiration from his surroundings and personal experiences, his lyrics are filled with authenticity, reflecting the struggles and triumphs of his journey. With a relentless work ethic and an unwavering dedication to his craft, Tha Vicious has solidified his position as a force to be reckoned with in the Florida hip-hop scene.
Renny Rich, a talented artist with a penchant for crafting infectious melodies, brings his own brand of charisma and versatility to "No Questions." Born in Jamaica and later finding his home in the vibrant music scenes of New York and Florida, Renny Rich has honed his skills as a songwriter and vocalist. His soulful vocals and smooth delivery add an irresistible layer of emotion to the track, showcasing his ability to create captivating melodies that linger in the minds of listeners.
The collaboration between Tha Vicious and Renny Rich was made possible through their mutual connection with the acclaimed producer/artist engineer, Primo the Genius. Known for his exceptional talent behind the boards, Primo the Genius recognized the artistic potential of both Tha Vicious and Renny Rich. Sensing that their styles would complement each other perfectly, he facilitated their meeting and encouraged them to collaborate on "No Questions."
"No Questions" is a trap anthem that showcases the combined talents of Tha Vicious and Renny Rich. From the moment the hard-hitting beats kick in, listeners are captivated by the infectious energy of the track. Tha Vicious effortlessly delivers his signature rapid-fire flows, while Renny Rich's soulful vocals soar over the mesmerizing production. The lyrical content of "No Questions" resonating with a wide audience.
Bundle link (Spotify, apple, YouTube) : https://ampl.ink/p6pxD
© 2023, MysticsEnt. All rights reserved.