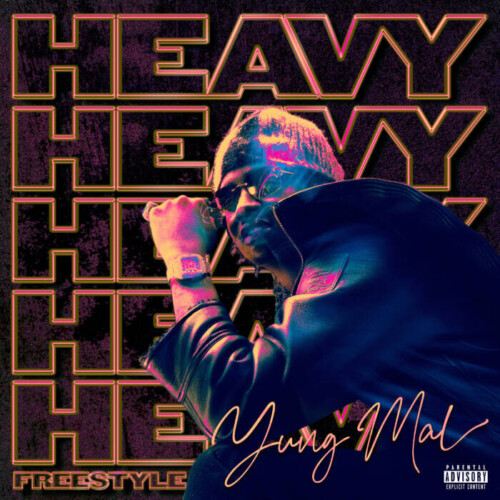 Respected in the Atlanta rap scene for his inimitable flow, Yung Mal looms large in the history of Zone 6 hip-hop. Pulling up to an ATL neighborhood for an ice cold freestyle video, Mal shares "Heavy Freestyle." Riding an apocalyptic trap beat, complete with tolling bells, sliding 808s, and demonic choirs, Mal unfurls a twisty freestyle, compiling assonant syllables into fresh flexes: "Superstar status, get paid for promotion/Young n****s wit me, they slicker than lotion/Yes, I'm a head of the game, I be coachin'/Ain't nuthin like these n****s, they burnt out, toasted." The latest edition of AZae Production and 4 Shooters Only's famed series From The Block, "Heavy Freestyle" arrives in the wake of the recent single "Gah Damn" and ahead of his next project.
Methodically working his way back into the rap game, Mal strutted his stuff with the technical and confident "Gah Damn," which earned praise from XXL and HotNewHipHop. "Gah Damn" was Mal's first new single since the release of "Right Back Out" in July. A furious First Day Out statement, "Right Back Out" was a welcome return for the East Atlanta rapper, earning praise from the likes of Offset and Swae Lee, who posted videos with the snippet, and notable names like Young Scooter, The Honorable C-Note, and DY from 808 Mafia showed love in the Instagram comment section. The love that the rap world showed Yung Mal upon the release of "Right Back Out" is a testament to his stature in the Southern scene, the product of years making street hits on his own and as part of a duo with his frequent partner Lil Quill, and collaborating with the likes of G Herbo, Pooh Shiesty, BIG30, and more. After six long months overcoming even more obstacles, Yung Mal is ready to properly follow-up his acclaimed 2021 project 1.5 Way Or No Way and make 2023 his year.
With a new project coming later this year via Alamo Records, Yung Mal aims to reach another level. Keep an eye on the ATL stunna as he continues to rise.
© 2023, Seth "Digital Crates" Barmash. All rights reserved.