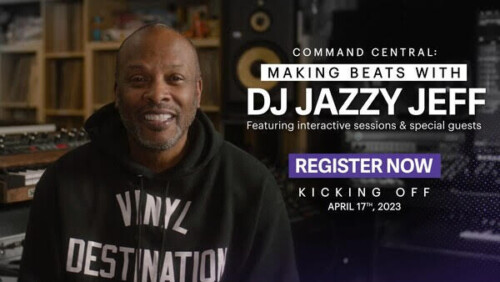 Legendary, two-time GRAMMY-award-winning producer DJ Jazzy Jeff has officially launched his debut online music-producing program, Command Central: Making Beats.
Powered by CafeMedia, the intensive six-week online program will provide content creators, DJs, and aspiring producers of all skill levels with the resources to build the core foundational skills for music production. Each week will sharpen participants' beat-making skills through intricate video module lessons ranging from drums, melody, arrangements, mixing, and sampling which participants will then apply to their own produced tracks. DJ Jazzy Jeff will be joined by award-winning colleagues and other surprise guests for live sessions and one-on-one feedback throughout the program.
"I'm excited to be launching this new program," said DJ Jazzy Jeff. "It's really important for me to pass down knowledge that I have acquired to the next generation of producers and Beatmakers. Giving the next generation a shot to make it in the music industry is special to me."
The course will be available in two different tiers:
DIY version: Includes the full-video program, written exercises, and bonus resources.
Interactive version: Includes the full-video program, written exercises, bonus resources, weekly live sessions with DJ Jazzy Jeff and other special guests, the exclusive chance to have produced work played in DJ Jazzy Jeff's live DJ sets, weekly feedback on submitted tracks and exclusive access to online student community forums
By the end of the program, students will be equipped with three finished tracks of their own and a wealth of newly cultivated production skills vital to each participant's expanding musical career. The Making Beats program bridges accessibility gaps for emerging creatives in the music community.
Widely recognized for multi-platinum, Grammy-winning collaborations with Will Smith and renowned work as one-half of DJ Jazzy Jeff and the Fresh Prince, the Philadelphia native stands as a pioneer in the hip-hop genre. DJ Jazzy Jeff's rich music legacy spans more than three decades including a DMC Championship, American Music Awards, NAACP Image Awards, and multiple GRAMMY Awards including the first GRAMMY for Best Rap Performance. Recently joining fellow icons on the 2023 GRAMMYs stage for the ceremony's 50 Years of Hip-Hop Tribute performance, the producer is bringing his legacy full circle to guide the new wave of music producers set to shape the industry we recognize today.
The Making Beats program is powered by CafeMedia – a creator-first company that works with thousands of the world's largest independent publishers and creators. The company has been expanding its capabilities to help creators grow their audiences and brands and connect more deeply with their communities
ABOUT DJ JAZZY JEFF
DJ Jazzy Jeff was born in West Philadelphia and developed a love of music early. Jeff was just ten years old when he started spinning records at parties; his family's basement was a training ground for his expert mixing. Since 1985, DJ Jazzy Jeff has wowed fans with his flawless turntable skills, innovative production, and musical versatility.
DJ Jazzy Jeff's rich legacy in music includes a DMC Championship and multiple GRAMMY Awards, American Music Awards, and NAACP Image Awards. Introduced to the world as one-half of DJ Jazzy Jeff and the Fresh Prince, his accomplishments extend beyond his multi-platinum, Grammy-winning TV collaborations with Will Smith. Notable is his acclaimed production company, A Touch of Jazz, credited for work with Michael Jackson, Jill Scott, Darius Rucker, and more.
View the trailer for the program HERE. Register for the program djjazzyjeff.com.
ABOUT CAFEMEDIA
CafeMedia's mission is to build a creator-first future. We empower the world's best creators and independent publishers to grow thriving businesses for the long term. Under our CafeMedia and AdThrive brands, we manage digital advertising sales and technology and a growing number of services for more than 4,000 creators and independent publishers. We make it easy for them to focus on what they do best — produce great content. Our passion and expertise have made us a leader in advertising and creator services. Today we rank as the seventh-largest digital property in the U.S. and #1 in Food, Family, Home, and Lifestyle–with a reach of more than 195M monthly unique visitors in the U.S. alone.
For more information, please visit www.cafemedia.com or follow us on LinkedIn or Twitter.
© 2023, Seth "Digital Crates" Barmash. All rights reserved.