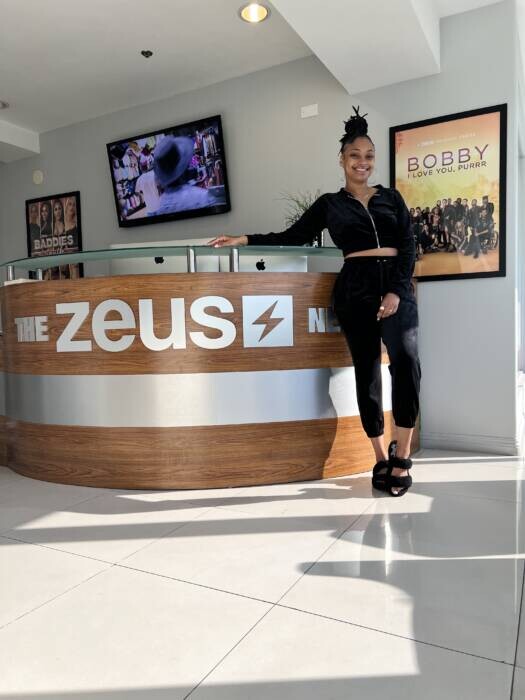 Though she's versatile in her many skill sets, Adrienne Reeves most notable influence comes from shaping the sound for popular platform, The Zeus Network. The process of submitting music through the Atlanta-based publishing company, Versa Library, is easier than you think. But before we get into that, there's one question that we all want to know: how did Ms. Reeves close the deal to begin with?
In 2019, Adrienne had just finished her work as an A&R and Marketing project manager at Atlanta independent label StreamCut, where she worked on her first platinum record with Grammy-nominated artist, Latto. Accompanied with a team of A&R's, she was responsible for overseeing and releasing 10 projects per week for a roster of notable artists and producers including Ann Marie, Baby Tate, Doe Boy, Jetsonmade, and more. After producing a private influencer meet up with Triller and Rolls-Royce, Reeves got the momentum she needed to launch her own company.
After planning for 9 months, Versa Library was created with the goal of helping producers and artists alike get their music placed in TV and film. But the first year being in business was nearly a failure, as the pandemic hit small businesses hard in 2020, and most television and film productions came to a halt. It was then that Adrienne took the rest of the year to build the catalog, searching for a versatile sound of music that would be both catchy and narrative. Towards the end of 2020, she went on vacation in Miami where she ran into executive producer and founder of the Zeus Network, Lemuel Plummer, as they were on set filming season one of "Joseline's Cabaret."
When returning to Atlanta, alarms went off in her head and she began to think of a master plan. In February of 2021, Adrienne got the call to come out to Los Angeles for a pitch meeting at the Zeus HQ. Accompanied with artist and influencer, Suni MF, they spent 2 hours playing music for the entire executive staff. Two months had gone by and Adrienne and Suni hadn't heard back. Then one day, she got a random call from Plummer. "I remember the day so vividly – I was at K Camp's studio hosting a release party for an artist we just signed. I ran out of the room to take the call and had to make the negotiation over the phone," Reeves recalls. "We had just closed a deal to do the music for the first Baddies ATL."
Since then, Versa Library was hired to produce custom music for Zeus' original series "One Mo Chance" (season 2), "Bad Boys: Los Angeles" and the widely popular "Baddies South." With 52 million viewers tuned in, Adrienne saw the opportunity to deliver something just for the fans – a soundtrack. For the first Baddies Soundtrack (released September 19, 2022), Adrienne tapped Grammy-nominated and Billboard-charting super producer Tasha Catour to curate the sound. Since it's release, the all-female compilation has earned over 300,000 streams across all platforms, consisting of popular tracks, "Wannabaddie" from Jacksonville artist Ona; "Big Miss" from Raleigh artist Maralynn; and the highly-sought after song "Jewels" by DearCallie.
"It's important for us to ensure fans everywhere can find our songs, so we made a plan to run ads on TikTok, create a library on our YouTube channel, and build a community through our Facebook group." With the help of music admin company, The Mezzo Agency, led by platinum songwriter, Tami Latrell, Reeves ensures each deal is in favor of the artist and producer. Since teaming up, both Latrell and Reeves have placed over 500 songs for over 30 artists on The Zeus Network.
This year we can expect Versa to be on the lookout for new music very soon, as they are gearing up for production for Bad Boys season 2. "We're looking to work with artists who have the same vision of revolutionizing the sound of music," Reeves explains. Once submissions open, independent artists can submit music directly on the Versa website.
Keep up below:
Website: https://versalibrary.com/
Instagram: https://www.instagram.com/ms.reeves/
YouTube: https://www.youtube.com/channel/UCKnlUwM8wC74__wOh7Xfw-w
Facebook: https://www.facebook.com/groups/wannabaddie
© 2023, alanna. All rights reserved.