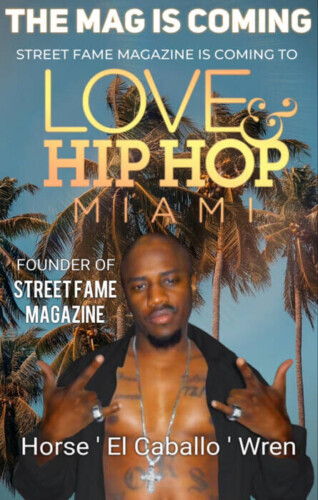 In the vibrant world of entertainment, some individuals are destined to break barriers and shatter stereotypes. Zoey Brinxx, a multi-talented rapper, singer, and reality TV star featured on MTV's Love & Hip Hop Miami, is undoubtedly one of these trailblazers. Her journey, marred by label politics and industry bias towards her plus-size figure, has been a testament to resilience and unwavering determination. And now, as the industry's skepticism fades, Zoey Brinxx is poised for her long-awaited breakthrough, thanks to the visionary behind Street Fame Magazine, Horse 'El Caballo' Wren.
Street Fame Magazine, renowned as the most iconic and celebrity-endorsed printed magazine on the planet, is gearing up for a momentous occasion. Founder Horse 'El Caballo' Wren is set to make his first, highly anticipated appearance on Love & Hip Hop Miami, a show known for its electrifying live tapings. What makes this appearance even more special is the fact that Horse will be photographing the newest cast member of Season 5, the incredibly talented Zoey Brinxx.
The excitement doesn't stop there. Zoey Brinxx's music video shoot and magazine cover photoshoot for Street Fame Magazine will culminate in a grand cover reveal event at one of Miami's hottest nightclubs. This event promises to be a star-studded affair, with the entire Love & Hip Hop Miami cast in attendance.
Street Fame Magazine has been an industry staple for an astonishing 16 years, attracting endorsements from music celebrities, independent artists, and music labels alike. These luminaries have found a platform in Street Fame Magazine to share their journeys, performances, and insights with the world. The magazine has been instrumental in propelling careers and providing a voice to artists and creatives.
Furthermore, the artists who perform at this live taping event are in for a remarkable opportunity. They will receive between 1200 to 3000 FM radio and online radio station BDS spins, a guarantee reserved for clean, radio-ready songs. These spins will be accompanied by weekly spin reports from Digital Radio Tracker, ensuring that the music reaches a wider audience.
As a testament to their commitment to emerging talent, Street Fame Magazine recently signed a new artist to an EMPIRE distribution contract, further solidifying their reputation as a launchpad for rising stars. Independent artists have the chance to secure performance slots at this exciting event and be featured in the printed magazine, providing them with invaluable exposure in the industry.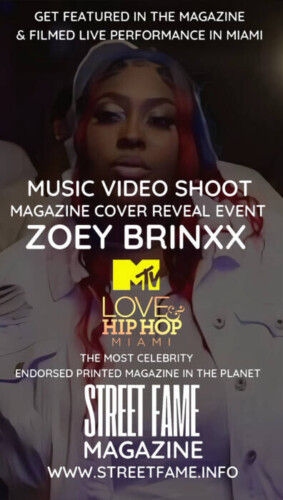 The buzz around this event is undeniable. FM radio station ads will be circulating throughout Miami, featuring the event's artists on posters and flyers. However, it's important to note that this is an exclusive, invite-only live club event, reflecting the caliber of talent that will grace the stage.
For those eager to be part of this incredible event in Miami, Florida, Andrea's Talent Management is the point of contact. You can reach out to them at 904-822-3342 for more details on how to join this memorable celebration of talent and artistry.
In essence, Street Fame Magazine is on the cusp of an extraordinary moment, one that will mark a legacy's rebirth. With its premiere on MTV's Love & Hip Hop Miami, this iconic magazine is set to captivate millions of viewers and redefine the narrative of inclusivity and opportunity in the entertainment industry.
For artist or label live performance details and event location in Miami, please contact Street Fame Soundtrack Label.
Come and witness the unveiling of a legacy as Street Fame Magazine takes center stage on MTV's Love & Hip Hop Miami. The spotlight is ready, and the world is watching.
© 2023, AMMPRO. All rights reserved.