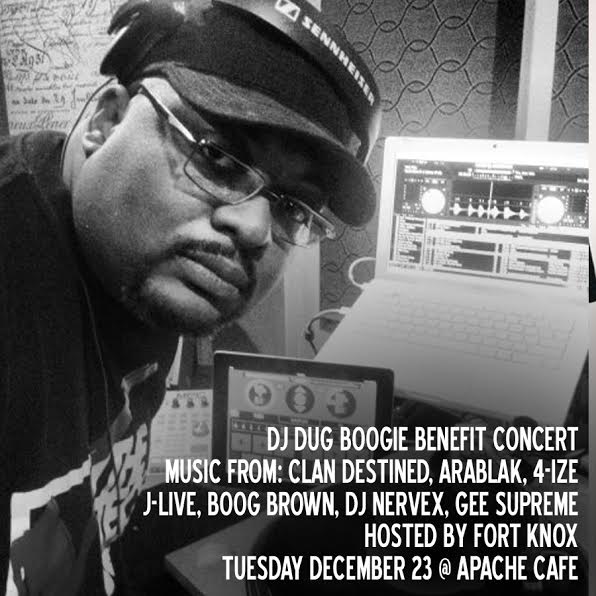 Atlanta based DJ @DugBoogie's wife, Linett Wilder lost her battle with Lupus on Tuesday. The hip hop community is coming together to raise some funds to help Dug & his children through this difficult time. On Tuesday December 23rd, 8pm-12am there will be a benefit concert at the @ApacheCafe in Atlanta. Hosted by Fort Knox and with performances by, Clan Destined, @Arablak, @RealJLive, @itz4ize, @BoogieWoogieBrown, DJ Nervex, DJ Gee Supreme. The ticket prices are a minimum of $10 donation at the door but any support at all is greatly appreciated.
"This fundraiser is on behalf of my friend and DJ comrade Dug Boogie. Dug Boogie has been a prominent figure amongst the hip hop DJs in Atlanta and needs our help. His beloved wife Linett passed away from complications of Lupus on the morning of 12/16/14. Now what you may not know is Linett and Dug adopted Linette's niece and nephew a few years after their mother passed away.
Now that Linett is gone, our homie Dug Boogie needs assistance for the two children that he's become a dad to. Fortunately, he has the burial costs covered but I figured we in the hip hop community can offer some extra help to relieve some financial stress while he segways into being a single parent." Thanks in advance,
Rashuri Rasyrious
There is also a Go Fund Me page set up here: http://www.gofundme.com/iz61n0
© 2014, Eldorado2452. All rights reserved.