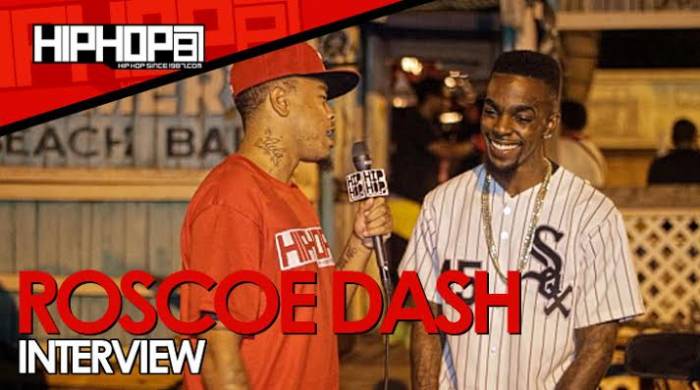 During the recent listening session for his new project "The Appetizer", HHS1987 caught up with Atlanta hip-hop artist Roscoe Dash to discuss an array of things.
HHS1987's Eldorado spoke to Roscoe Dash about his new project "The Appetizer", his motivation behind the project and where he has been. Roscoe spoke on dropping this new project to bring his fans into his world and to give them some insight on what he has going out. Teaming up with his brother DJ Fly Guy, Roscoe felt that releasing a project or a sampler would be the best way to speak to fans and regain his spot in the game.
Roscoe also discussed his new venture  jumping into the business side of music. After being responsible for multiple hits to hit the airwaves, Roscoe talked about wanted to be more of a business man to help take his talents to the new level. With his new label Dreamers Republic on the way, Roscoe spoke on completing his journey and creating ways to find success.
After elaborating on his music career and moving into the business world, Roscoe Dash also spoke on acting and possibly being in film sooner than later. Following a role on VH1's reality series "Love and Hip-Hop Atlanta", Roscoe informed us that he has been taking improv classes and although he doesn't plan on forcing any roles, acting is certainly in his near future.
Before wrapping up the interview, Roscoe Dash discussed his current tour "Where's Roscoe". Roscoe acknowledged that fans and fellow music peers have been wondering where he has been after taking a break from music, so it was only right to address those questions with this tour. When asked about "Where's Rocsoe", Roscoe replied "We pretty much went out on top. I'm not gonna toot my own horn, we were on everything song on the radio then we pretty much disappeared so it was right to name the tour Where's Roscoe". Roscoe informed us that the tour will soon be headed overseas to Japan.
The interview was conducted by HHS1987's Eldorado. The interview was shot by Brian Da Director.
Follow On Twitter
@RoscoeDash/@Urdjuice
@Eldorado2452
@HipHopSince1987
@BrianDaDirector
© 2014, Eldorado2452. All rights reserved.