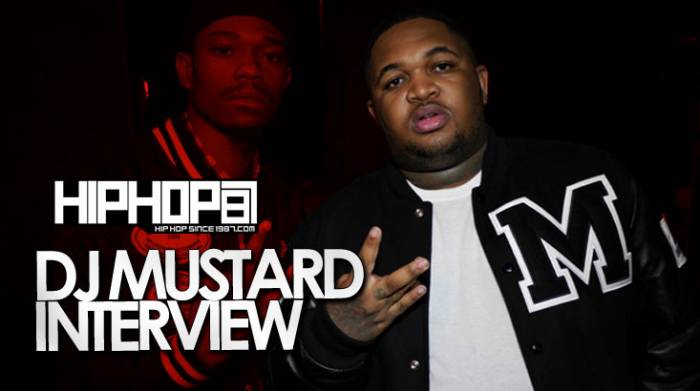 DJ Mustard has been on quite a tear in the past two years, lacing some of music's biggest hits and playing a pivotal role in the West Coast's recent sonic resurgence. He's also the official DJ on YG's My Krazy Life Tour in support of the Compton rapper's highly-touted debut album and before taking the stage at the TLA on the night of the tour's Philly stop, Mustard chopped it up with HHS1987's E-Money for the latest edition of Behind The Beats.
With his debut album set to drop this summer, Mustard is determined to prove he's here to stay.
"10 Summers is just a promise to the streets that I plan on keeping. Basically meaning that I'm gonna have the rap game for no less than ten summers," he said of the album's title. "Expect the unexpected from my album. It's gonna be a classic album, though."
Being an established DJ in LA was a key element to Mustard's success as a producer and he attributes his club-ready sound to his work behind the wheels of steel.
"If I wasn't a DJ I wouldn't have even [known] to do 90 [beats per minute] to help DJ through a whole 'nother hour of shit," he said of how DJing helped him learn how to rock crowds. "When I started making beats for YG he was already doing that type of music so I just added my own flavor to it and gave it to him."
Beyond the technical aspects of the in-studio process and keeping a imaginative and open mind when making beats, Mustard accredits much of his success to building genuine connections with the artists he works with.
"It was just really having real relationships. My shit be deeper than rap. Ain't no A&R's coming in [and] pulling me in these sessions. I don't really be with A&R's; I don't deal with A&R's. 'I'm Different' that was 2 Chainz, direct […] 'RIP' that was Jeezy, direct. 'Rack City' that was Tyga, direct. The YG's, the Ty's, the Nipsey's, the shit like that, Meek […] all my shit is real relationships, ain't no fake shit."
Mustard also took time to speak on his favorite beat making programs, staying hungry and motivated, how loyalty is crucial to staying relevant and more.
Check out the interview below and be on the lookout for more exclusive content that you can only find here on HipHopSince1987.com.
© 2014, Dessy Weegar. All rights reserved.