A few days ago the NYPD took to their Twitter account to announce they were launching a "manhunt" for Joe Budden. Budden has been accused of dragging his ex girlfriend out of her car, choking her, slamming her head on the dashboard, and taking her cell phone. Audley, the ex-girlfriend, also apparently told police that the rapper has guns in his home leading to a police search.
Since the "manhunt" began, Joe has been very vocal on social networking about his innocence and tweeted to the NYPD that he would be at a strip club in Queens, but clearly they didn't show up. The Jersey native also had some choice words for the police department including that he has intentions on filing a lawsuit against them.
Today, NBC 4 New York were outside the rapper's home and interviewed him about the allegations. Watch what Budden had to say below. Side note: as a fan of Joe's work, it would be great if news outlets realized he had more songs/videos than "Pump It Up."
Update: following the interview with the news channels Joe took to Twitter saying, "By the way, shorty's police report says I dropped her off home…so I beat ur ass, dragged u & assaulted u but u got in my car ?!? Lmao. Sensitive subject, but some 1's gotta do it…. Fuck it….Attention whores will be attention whores. I'll holla."
Watch the video HERE.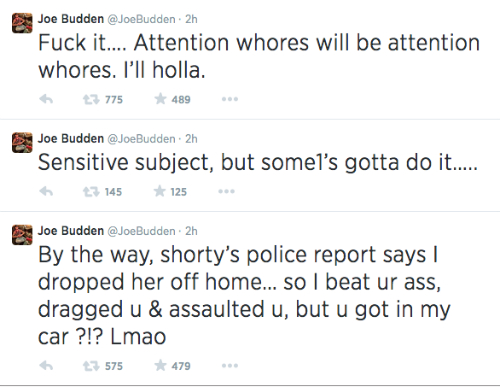 © 2014, Julie Aly. All rights reserved.