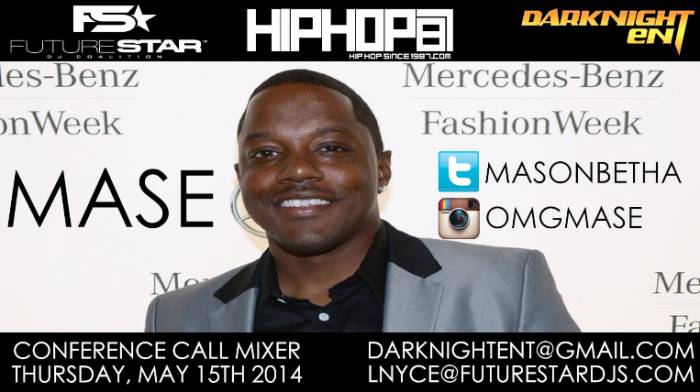 He's back. Again. Mason Betha became a household name as one of the most prolific artists in one of the most prolific crews during one of the most prolific periods in Hip-Hop history. He was the Uptown pretty boy with the flashy grin, dope rhymes, and hypnotic delivery that helped make Puff Daddy's Bad Boy Records a musical powerhouse. Since the days of Harlem World, Ma$e has stepped in and out of the limelight with varying degrees of success. With a new single out and a new album on deck, Ma$e looks to reinsert himself into the Hip-Hop landscape in a major way and add that signature Harlem flair that's been missing since '97. Welcome Back.
Courtesy of Future Star DJ Coalition and Darknight Ent's Tastemakers Conference Call, Ma$e chopped it up with HHS1987's E-Money, about his new single, "Nothing" featuring Eric Bellinger, working with the likes of Cam'Ron, Meek Mill, French Montana, and Rick Ross on his new album, his plans to drop multiple full length projects in the upcoming months, ghostwriting, his personal Hip-Hop Mt. Rushmore and much more.
When asked about his recent whereabouts, Ma$e let it be known that just because we don't see him doesn't mean we aren't hearing him.
"Realistically, I been working nonstop for just years. A lot of the records you guys [have] been playing, I probably ghostwrote at least six of the last crazy records over the years," Ma$e disclosed of his work behind the scenes.
Ma$e is also taking a more personal responsibility with making sure his music touches the correct outlets.
"I kept working with other people and giving other people music but never really did it for myself because I really never felt like I had DJs support. My music always came through somebody else, I've always been working through somebody else, somebody always been making the calls for me," he said, "so this time I wanted to make sure I make my own relationships with people."
Although his tactics are more refined, some things never change and with his new single "Nothing", featuring Eric Bellinger, the Harlemite looks to infuse his fun loving sound and attitude into the game once again.
"It can bring a new wave to Hip-Hop, cause the fun is missing," he said of the track which was to originally feature Ty Dolla $ign. "We're getting [music video] treatments from Benny Boom and Spiff TV and people like that."
Not only is Spiff TV looking to direct the video for "Nothing" but, along with MMG head honcho Ricky Rozay, the A&R has big proponent of Ma$e's return, .
"Spiff was one of the people who's been working with me a lot behind the scenes just telling me to put out records every time I see him and people like Rick Ross every time I see them," he said of the support he's received from the Maybach team. "One time Rick Ross through me in the van […] we were in New York, and he was like, 'Yo, nigga when you gon put out some music,' and then we was riding around and I told him I had something and I just dropped it […] the love has been overwhelming."
Although they've had their differences, Ma$e confirmed a reunion with his childhood friends the Diplomats and the man who brought him in the game, Diddy.
"I'm definitely gonna have a DipSet feature on everything that I do," he said of reuniting with his fellow Children Of The Corn alumni, "when I say DipSet I mean Cam['Ron], the whole arsenal."
"[Puff] said he gonna make sure I get super rich this time so I'm just holding him to his word," he said of his relationship with Diddy and the possibility of doing a reality show with Revolt TV. "We been really in a good space. Everybody with me has really been in a good space. Even guys like French, even Drake, just different people, 2 Chainz, just everybody, Meek Mill, anybody you can probably think about. It seems like everything is cool so I'm looking forward to the music we can make."
Before opening up the conference call to DJs from around the world, Ma$e gave E-Money a rundown of his top 5 dead or alive.
"On my Mt. Rushmore of Hip-Hop […] B.I.G. is definitely number one. It'd have to be somebody from NWA, that's number five […]Nas would be number two to me […] I would have to put Weezy in my top 5 [..] I'll go with Hov […] I would definitely have to squeeze [Kan]Ye [West] in there as my honorable mention. I wouldn't say Em[inem] because […] I believe, the way Eminem raps there were all types of niggas who rapped like that, that couldn't get it on radio […]  Em is stupid dope, but I just feel like there's so many people that had that same rapid flow that never got put in that light."
Check out Ma$e's new single, "Nothing", here, listen to the interview below and be on the lookout for more exclusive content that you can only find here on HHS1987.
© 2014, Dessy Weegar. All rights reserved.