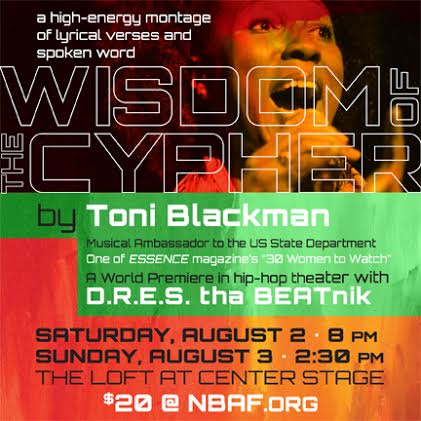 Atlanta is in for a lyrical treat this weekend. The National Black Arts Festival, Toni Blackman and D.R.E.S Tha BEATnik have teamed up to bring us a special Hip-Hop and poetic show at The Loft at CenterStage August 2nd at 8pm and August 3rd at 2:30pm entitled "Wisdom of the Cypher".
Wisdom of the Cypher, a world premiere by hip-hop impresario Toni Blackman, is a high-energy montage of lyrical verses and spoken word that opens upon multiple pathways and possibilities for the form of hip-hop and its community. Wisdom of the Cypher travels along the path that not only defines the essence, but clarifies its soul purpose for existence. Joined by Atlanta-based beatboxer D.R.E.S. tha Beatnik and directed by Monica L. Williams with C. Hankins as the musical conductor and a universe 
of digital projections, this work in spoken word, images and music unfolds upon a potential future for this sacred form.
Tickets for this amazing show are $20 and can be purchased at NBAF.org. See you there!
© 2014, Eldorado2452. All rights reserved.