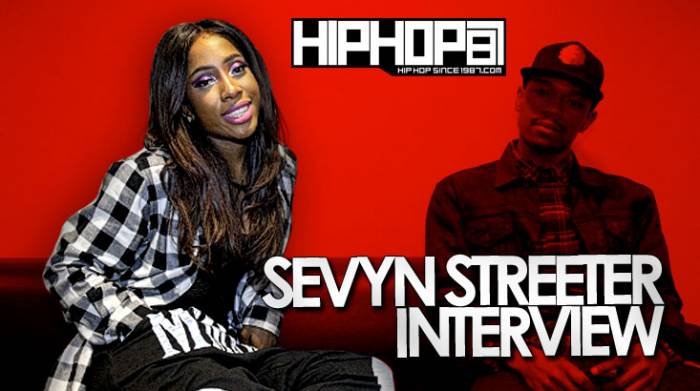 With an undeniable voice, a potent pen, and beauty to spare, Chris Brown's latest understudy, Sevyn Streeter, has all the makings of R&B's next big star. After putting on an amazing show before a sold out crowd at Temple's Performing Arts Center, Sevyn sat down with HHS1987's E-Money to discuss her forthcoming major label debut, having songs written for her and writing songs for other artists, the current state of R&B music and more.
After releasing her well-received 'Call Me Crazy, But…' EP last year, Sevyn has her sights set on her major label debut.
"We have a couple songs that we know for sure that are gonna be on the album, but then I'm about to really, really dive into recording for the album," she disclosed. "I'm excited to just be working on my album. The EP was great, and I was happy to have some music out but I really can't wait to put an album out so that's next."
Along with her captivating vocal prowess, Sevyn possess a knack for penning the memorable lyrics to her hits herself. When asked by E-Money what her preference was, to write or be written for, she made it plain that a good song is a good song no matter where the lyrics come from.
"I just like dope records, I don't care if I write it or not," she admitted, "If somebody writes a great record – a great record is a great record – so I'm gonna cut it regardless, and keep it regardless, I don't care if I write. It just so happens that a lot of my stuff I do write, but I'm so open to people sending me records [and] writing me records."
Between touring and preparing her first LP Sevyn's been pretty busy. She revealed, however, that even with her hectic schedule she still finds time to lend her genius to others.
"I actually just found out that I have [placed] Tamar Braxton's new single and it's a song called 'Pieces'. I had [written] her last single it was called 'All The Way Home' and then I got a phone call the other week that said, 'Hey, you got [placed on] her next single,' so her new single is called 'Pieces' and I wrote it."
R&B has been in an upswing as of late and Sevyn is a part of a fresh pool of new talent that is buoying the genre and helping to push it forward. Her enthusiasm for where the music scene is heading is evident.
"I love what Miguel does, I love what Jhene [Aiko] does, I love what August [Alsina] does. I'm very excited about it, I really am," she gushed. "I'm so excited about it so shoutout to all of the artists; I'm a big fan of all of those artists."
Sevyn also spoke on giving a lucky audience member a lapdance as a part of her show, bringing her own stable of artists into the game, shooting the video for "nEXt" with Kid Ink, and her friend and mentor Chris Brown.
Check out the interview below and be on the lookout for more exclusive content that you can only find here on HHS1987.
© 2014, Dessy Weegar. All rights reserved.