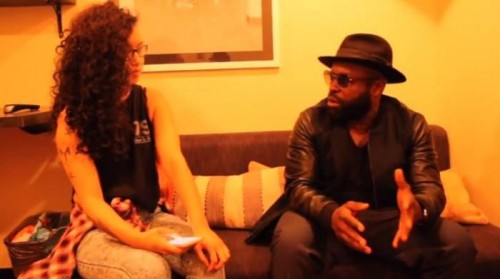 I recently got the chance to link with Black Thought before a taping of The Tonight Show With Jimmy Fallon in NBC's New York City studio location. The iconic rapper discussed everything from his recent collaboration with J. Period, his memory of working with Big Pun on "Super Lyrical," his thoughts on Pun's son, Chris Rivers, plans for a Roots picnic in New York City, his thoughts on the recent events in Baltimore, battle rap, Eminem and more.
On his "Masters of Fate" Verse w/ Raekwon:
People know. I don't have to name any names 'cause don't nobody really want it with me."
On working with Big Pun & breaking in Beanie Siegel:
Me & Pun traded a verse for a verse. However, after recording my verse for Super Lyrical, Pun didn't get a chance to do his verse for one of my tracks. So Beans (Beanie Sigel) took Pun's place on the song "Adrenaline." That song is what kind of catapulted Beanie Siegel as an artist."
Watch the video below for the full interview.
Interview by: Maria Myraine
Photo & Video done by: Reflection Dynamiks (RDNMKS)
© 2015, MariaMyraine. All rights reserved.