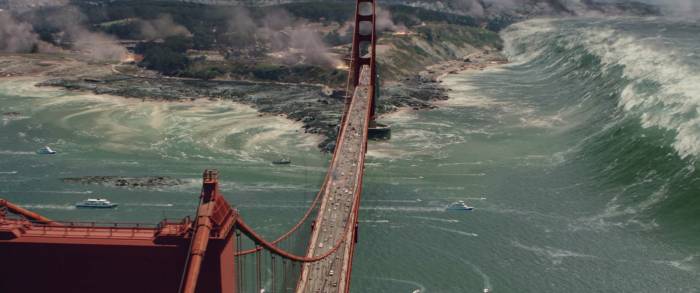 It's Friday, so as your looking forward to a weekend of fun , the weather outside will be wonderful so it is time to grab friends and family and checkout a new film. Today, Warner Bros. and Dwayne Johnson's new movie 'San Andreas' hits the big screen and it is a must see, action packed thriller.
Dwayne Johnson stars as a Los Angeles Fire & Rescue Captain named Ray Gaines who comes to the aid of his loved ones during a natural disaster in San Francisco & Los Angeles. When the World is faced with the biggest earthquake ever, the west coast becomes a danger zone in this new film. Shot in 3D, 'San Andreas' provides a very realistic storyline and wonderful visuals as some of Nevada and California's landscapes and communities become nothing right before your eyes.
After the infamous San Andreas Fault finally gives, triggering a magnitude 9 earthquake in California, a search and rescue helicopter pilot (Dwayne Johnson) and his estranged wife make their way together from Los Angeles to San Francisco to save their only daughter. Their treacherous journey north is only the beginning and when they think the worst may be over, they find out it's just getting started.
Checkout the trailer for Warner Bros. new film 'San Andreas' below and checkout your local movie theater for dates and showtimes. Take my advice and see 'San Andreas' In 3D. 'San Andreas' is rated PG-13.
© 2015, Eldorado2452. All rights reserved.