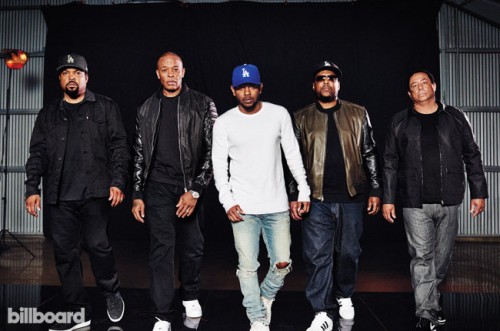 The long-awaited "Straight Outta Compton" movie based on the career of Hip Hop group, N.W.A., will make its premiere this Friday. It was only fitting for Billboard to recruit Compton-native, Kendrick Lamar, to interview the group.
Dr. Dre on keeping their sanity after so many years in the game:
The way I keep my sanity is because the love I have for the music and the passion that I have for this Hip Hop thing. I can't let anything get in the way of that.
Dre reversed roles and asked Kendrick a question as well: "Have you seen the movie?"
Kendrick:
Not yet. Didn't want to go to a preview and see it in a privileged setting. Would rather wait for it to come to the neighborhood and see it with everyone else. That way it'll mean the most to me.
Watch the full interview for more insight on the legendary careers of Dr. Dre, DJ Yella, Ice Cube, and MC Ren, below.
© 2015, MariaMyraine. All rights reserved.