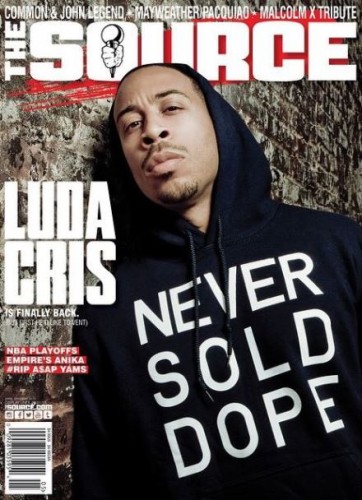 Some may sleep, but my favorite saying is & will always be "numbers don't lie," so while you're sleeping, Ludacris is busy out here breaking the banks. With Furious7 hitting theaters tomorrow & Ludaversal now in stores, it's safe to say that Ludacris has been very busy these days. He lands another win with the cover of the Spring 2015 issue of The Source Magazine.
Luda lets fans into his life a bit in his cover story. He talks his newfound happiness, marriage, his relationship with Paul Walker, & more. Check out a few quotes taken from the story below:
On being a father and protecting his family:
"If you're talking about me, you're talking about them. So it's almost like when you know that back-in-the-day saying about a mother's strength. Like, a mother's strength can pull a car off a child. Strengths that you didn't know you had, you tap into a whole other energy source that you don't want to really do that. You don't want to f*** with that. I've never claimed to be the most gangster, or hard-ass rapper. However, when you tap into sometingthat's f****** with me or my family, there's another side that you're going to see from me."
On enjoying success, but staying humble:
"It's like the difference between Ludacris and Chris Bridges […] I'm just a humble dude and I never forget where I come from. I actually enjoy riding in my Acura Legend more than I enjoy riding in the Bentleys and the Range Rovers and the Ferrarris and sh*t like that. That part of myself, I'm never going to let go. That Acura represents a piece of me. Now, on the other hand, I got to flex on m*****f******. On one hand, I'm humble and on the other, I got to remind people that I own a plane. Like, I've worked hard to get this."
© 2015, Niyah Nel. All rights reserved.