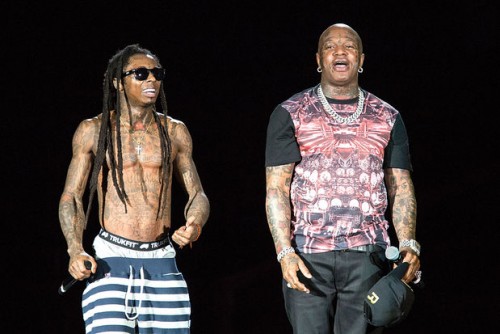 The rumors have been confirmed at this point, Lil Wayne is indeed suing Birdman for $8 Million & asking the Judge to terminate his contract with Cash Money Records. The problems are persisting due to the fact that Baby refuses to release Tha Carter V until he feels that it's time. It"s been nearly 2 months now since Wayne took his feelings to twitter about his dissatisfaction with Cash Money, & nothing has changed other than news that some of the lyrics dropped in Wayne's latest Sorry 4 The Wait 2 were disrespectful.
The $8 Million that Lil Wayne is suing his label boss for is said to be his advance for the album… The dues have yet to be paid. Wayne says that his contract with the label is currently being violated because they will not release the project. So now that we know that Tunechi is completely fed up, here's the icing on the cake.. TMZ reports that is planning on taking the entire Young Money roster of artists with him. Lil Wayne's manager, Cortez Bryant, spoke on behalf of Wayne via Twitter weeks ago stating that all of the YM artists that have been loyal from the start will have their time too.
Of course these matters will more thank likely have to be taken to court as well, but Lil Wayne is demanding his respect. What other way to ensure that he gets it..
© 2015, Niyah Nel. All rights reserved.