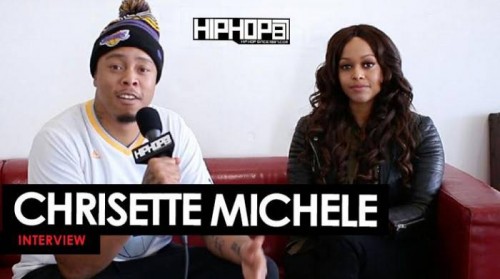 R&B songstress Chrisette Michele's career has already been one that has earned her the title of "Diva" yet Chrisette is ready to move on to new endeavors in life so we sat down with her to get the scoop!
Looking to make a splash with her new imprint "Rich Hipster", Chrisette Michele's life is an adventure right now as she recently got engaged and she is working on a new "Trap Soul" themed album entitled 'Milestone'. Chrisette spoke to us about her rekindled love and how having her love life in order has helped her personally and professional. Speaking on no longer feeling alone and knowing her love has her back, work has become easier and she knows without a doubt she can take on the World.
With her new album 'Milestone' set to drop in the spring of 2016, Chrisette Michele gave us some key insight on her new project and new sound. Many of Chrisette's fans love her for her strong voice and ballad themed tunes but Chrisette is moving on to a more Hip-Hop or Trap Soul themed project and that is evident with her new single "Steady". Chrisette addressed the differences creating a R&B album vs. Trap Soul album, features on 'Milestone' and the future of her sound.
Before concluding the interview, we also discussed the future of Chrisette's label "Rich Hipster" and her plans on developing artist as well as her upcoming Wedding. Speaking on how artist development is sorely lacking in music today, Chrisette shared wanting to house Rich Hipster as an artist development hub as well to help artist truly learn the game. Taking a break from music soon for marriage, Chrisette informed us of a few wedding plans and the possible guest list.
The interview was conducted by HHS1987's Eldorado. The interview was shot by Danny Digital.
Follow On Instagram/Twitter:
@ChrisetteM/ @ChrisetteMichele
@Eldorado2452
@HipHopSince1987
@DazedArtsatl
@DannyDigitall
© 2015, Eldorado2452. All rights reserved.