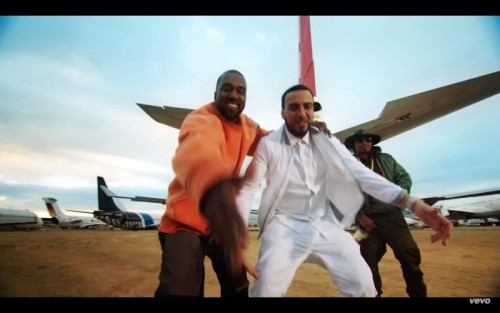 Frenchy revisits his Wave Gods project and enlists the help of Eif Rivera to deliver the visual treatment for his Yeezy and Nas collaboration, Figure It Out. The video has the three surrounded by airplanes and dirt bikes for an action-packed visual of the somewhat subtle track. French Montana has just put the finishing touches on a partnership deal with Epic Records.
CEO LA Reid says:
"Anyone who has paid attention to the course of hip-hop over the past decade has found French Montana consistently at the eye of the storm. He has funneled his North African roots and Bronx upbringing into a unique presence on hundreds of tracks by artists across the musical spectrum. French has now become one of hip-hop's core artists himself, and I'm happy to welcome him to the Epic family."
Says Diddy:
"French Montana is a proven Hit Maker. When I first heard him, I knew he had that special Bad Boy sound and I believed in his potential. He was on the fast track then, and now, to see how far he's come, he's a major force in Hip-Hop and a key member of the Bad Boy Family. Bad Boy is known for creating the biggest acts in hip-hop – and French is not only a part of our legacy but now also a part of our new chapter at Epic Records."
Harve Pierre adds:
"French Montana has accomplished more in the past few years than most artists are able to achieve in their entire career. When first bringing French to the company, I knew that he would become a tremendous asset and bring overall value to the brand. As a member of the Bad Boy family, he has already put his mark on some of the hottest music around, and has shown the world the future of hip-hop."
Montana thanks.
"Love the respect and appreciation that LA Reid and his team have for music. I think it's rare to find that in the industry today. Being able to start this chapter at Epic with my Bad Boy family is a blessing. Puff and Harve have been like big brothers to me and there's nothing better than making music with the people you love."
via RapRadar
© 2016, Oktane. All rights reserved.