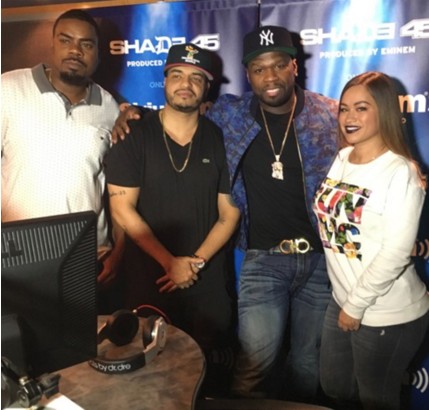 It's no secret that Kanye West's new G.O.O.D. Music signee Desiigner is nearly a mirror image of Free Bandz Gang CEO, Future. Actually, it's almost freakish how identical their styles are. But still, his style is what got him to where he is now–in the presence of Kanye West.
If you've had the opportunity to stream TLOP, you can hear snippets of Desiigner's breakout hit Panda being sampled on track 3, Father Stretch My Hands Pt.2.
In a recent interview on Shade45's #StreetzIsWatchin show, 50 made his appearance & was vocal about his feeling on the newly emerged artist & his contributions to West's new album, The Life of Pablo. 
I'm not sure he's going to be able to make another record because he's only recorded two songs.. But, the one that he did reminded me of Future and now how good is that?.. If Future told me he was uncomfortable with it maybe I would be like, 'You did kind of bite that style.. For me I've had artists that reminded me of me like Troy Ave and them.
50 went on further to say that he actually doesn't mind for artists to emulate his style due to the fact that he wants his sound to have longevity in the game.
It will be there in our culture.. At the end of the day you look at it and go: some things you shouldn't address it. You shouldn't even make mention of it.
Despite his personal thoughts on the idea of longevity for Desiigner, he did say that he sat front row At Kanye's "Yeezy Season 3" show that took place at Madison Square Garden. He loved the project after hearing it the first time at the show.
What can we say, opinions are opinions. To listen to the full interview on #StreetzIzWatchin, listen below.
© 2016, Niyah Nel. All rights reserved.