The Atlanta Hawks are kicking off the 2016-17 NBA in a very special way. The Hawks have teamed up with ESPN and the National Center for Civil Human Rights and they will be displaying the Breaking Barriers: Sports for Change exhibition for the next few weeks. The exhibit which has a theme of inclusion and honors local non-profits who support that mission, will be on display at Philips Arena until November.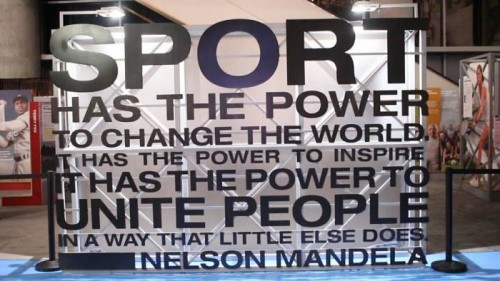 "The timeliness of the Breaking Barriers exhibit aligns perfectly with our mission to 'unite and entertain the city of Atlanta through basketball.' We are humbled and honored to perpetuate the significant ways athletes and sports have helped move the nation toward greater acceptance and understanding of our diverse citizenry," said Nzinga Shaw, Chief Diversity and Inclusion Officer for the Atlanta Hawks and Philips Arena.
The exhibition, which made its debut during this summer's ESPY Awards and Sports Humanitarian of the Year Awards in Los Angeles, chronicles the "extraordinary stories of how athletes are using the common language of sports to open doors, challenge biases and ensure fair treatment for all." After the initial section of the piece is unveiled at the Hawks vs. Cleveland game, the full exhibit, spanning 800 square feet and decades of historical events, will live in the arena's Philips Experience footprint for the next 30 days. 
"The National Center for Civil and Human Rights is honored to bring this labor of love with ESPN to our city. Its debut comes at a time when people need to be reminded that voices can be heard and that change can be made," said Derreck Kayongo, CEO for the Center for Civil and Human Rights. "Thank you to the Atlanta Hawks for continuing the dialogue and for their support in spreading the message of unity."
Fans will be able to experience the display at any of the games or shows at Philips Arena through Nov. 12. Immediately following its run there, Breaking Barriers will be at the Center for Civil and Human Rights at 100 Ivan Allen Jr. Blvd. through Nov. 30. Make sure you get down to Philips Arena and check out the exhibit. 
The vlog was conducted by Terrell Thomas (Eldorado). The vlog was shot and edited by Danny Digital.
© 2016, Eldorado2452. All rights reserved.