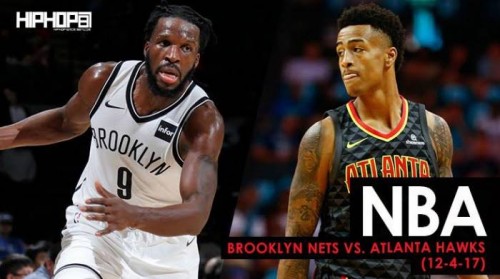 The Hawks went to Brooklyn on Saturday and defeated the Nets, the Nets came to visit the Hawks on Monday at Philips Arena to return the favor.
Thought it was only fair to split ¯\_(ツ)_/¯ pic.twitter.com/OnEyXc5lUr

— Atlanta Hawks (@ATLHawks) December 5, 2017
Last night, the Brooklyn Nets defeated the Atlanta Hawks (110-90) in a Monday night matchup. Before the Nets get ready to hit Mexico City for two upcoming matchups, Brooklyn came out with a different edge after losing to the Hawks over the weekend.
BAZE 💪💪 pic.twitter.com/mf8XEGjMJN

— Atlanta Hawks (@ATLHawks) December 5, 2017
Caris LeVert led the way for Brooklyn Monday night in Atlanta. LeVert finished the night with 17 points and 6 rebounds. LeVert was vocal with this teammates all night, making sure they didn't lose their focus and lose the game. Rondae Hollis-Jefferson added 16 points for the Nets. Former Hawks swingman/ Nets forward DeMarre Carroll performed well in his return to Philips Arena. Carroll finished the night with 13 points.
It was a competitive game until the third quarter. The Hawks were in it in the first half but after being out scored (31-15), there was no recovering from that hole. Hawks point guard Dennis Schroder led the way for Atlanta scoring 19 points on (9-17) shooting. Kent Bazemore and DeAndre Bembry both followed that up with 13 points. Rookie Isaiah Taylor followed that with 9 points off the bench.
The Hawks looked well despite the injuries effecting their lineup. Collins and Dedmon will miss some more time, so we may see the Hawks playing small ball during their next few matchups. The Hawks will hit the road on Wednesday night as they will head to Orlando to face the Orlando Magic. Stay tuned to HHS1987 for more NBA news. Follow @eldorado2452 on Twitter and Instagram for all your NBA and sports news.
© 2017, Eldorado2452. All rights reserved.