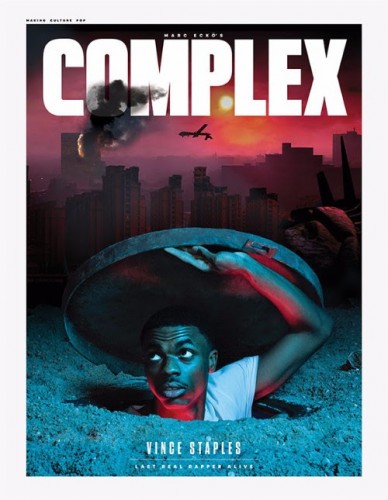 Complex recently did a cover story on Vince Staples. In the interview, he discussed his new album, "Big Fish Theory," as well why he thinks "beef" is corny and why fans don't really care. He also opens up a bit about his family and his Long Beach CA community.
via Complex:
The new album is called Big Fish Theory. Why? What's that mean?
Vince: It encompasses things. Being larger than life in a smaller world, so to say. How rappers are perceived and perceive themselves.

So, you're learning about yourself as you're making the stuff. What did you learn about yourself in making Big Fish Theory?
Vince: I don't think this album was a learning process itself as far as the creation of it. I just think it was a culmination of things I had been learning over the past few years, and coming to an understanding. Often times, music becomes a coping mechanism for people.

What are you coping with?
Vince: I think everybody's coping with the same shit. It's just life. You live a long life, and then you die.

I suspect that you're coping with a lot of things that I, and most people, don't know anything about.
Vince: I wouldn't say that. I feel like it's just life. A lot of time we don't look at people that we deem to be more important than us as human beings. We become just fixtures based off the things that we create, or the things that we give the world, and those things kind of limit our ability to be looked at in a humane fashion. Everybody has and deals with the same stuff. There isn't that many aspects to life to the point that we aren't all dealing with the same things. It's pretty basic.

How would you describe the Vince Staple sound?
Vince: I don't know. I don't think I listen to enough Vince Staple music to dissect it. I think we're still going. We're still making new things everyday, but I don't think I necessarily have one. It's funny, 'cause music, the creation of music—to take something that you hear in your head, and try to make it an actual thing, it never ends up how you imagined it, which could be a good thing or a bad thing, but it's never exactly how it was. Yeah, so I think you're just chasing that sound or that feeling or whatever it might be, and I think that's what keeps it creative, that you're constantly chasing something. So I couldn't necessarily say what that is until I feel like we've caught it.
© 2017, MariaMyraine. All rights reserved.