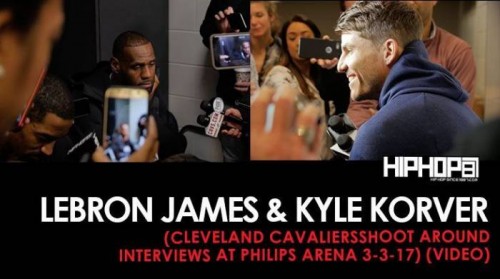 On Friday March 3rd, the defending NBA Champion Cleveland Cavaliers came to town here in Atlanta for a primetime Eastern Conference matchup on ESPN. The Cleveland Cavaliers and Atlanta Hawks have met the last two seasons in the NBA playoffs with the Cavs sending the Hawks home both times. It's safe to say it is always a big game when these two teams meet.
The Hawks defeated the Cavs earlier in the year in Cleveland (110-106) back in November so the Cavs were looking to even their season series with Atlanta at one game a piece. Prior to Friday's big game we spoke with Cleveland Cavaliers stars Lebron James and Kyle Korver to get some insight on how they felt heading into the game.
LeBron James spoke on an array of topics. With the 2016-17 NBA regular season quickly coming to an end, I spoke with LeBron James on the addition of point guard Deron Williams as they prepare for the NBA postseason. LeBron spoke on Williams leadership and high basketball IQ, stating it's still early but he has high hopes for Williams. LeBron also spoke on the injures that have effected several of the NBA's biggest names this year. LeBron spoke on how injured affect the game but are also apart of the game, wishing everyone a speedy recovery. LeBron also took a moment to speak on Colin Kaepernick's decision to stand during the National Anthem and fatherhood, missing his son's games while he is at work on the NBA hardwood.
In his first return to Philips Arena as a member of the Cavaliers, former Hawks star Kyle Korver was welcomed with opened arms. Kyle Korver spoke on his time as a Hawks and some of his favorite memories in a Hawks uniform. Korver spoke on his love for Atlanta and Hawks fans and on his new role with the Cavaliers. He mentioned how fun it was going to be to be returning to a place he once called home and how he can help the Cavaliers repeat as NBA champions.
The Cleveland Cavaliers  (3-3-17) shoot around was covered by Terrell Thomas. The Cleveland Cavaliers (3-3-17) shoot around was shot and edited by Antoin Martin. Stay tuned to HHS1987 for more NBA news. Follow @eldorado2452 on Twitter and Instagram for all your Atlanta Hawks, NBA and sports news.
Follow On Twitter/Instagram:
@Cavs
@KingJames
@KyleKorver/ @KKorv26
@Eldorado2452
@DirectorAMartin
@HipHopSince1987
© 2017, Eldorado2452. All rights reserved.