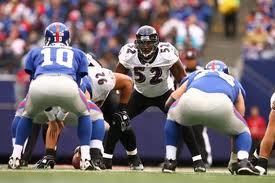 Ravens vs. Patriots :
This looks to be a big heavyweight bout when the Ravens enter Foxboro this afternoon. Tom Brady is looking for his fourth super bowl win by advancing today and Ray Lewis is looking for his second title. The Ravens are coming off a win against the Houston Texans and the Pats are coming off a huge win against Tim Tebow and the Denver Broncos. I believe the Ravens have something to prove tonight and will be flying around the field looking to punch their ticket to Indy February 5th. I expect huge games for Ravens Terrell Suggs, Ray Rice and Ed Reed. Tom Brady beware.
Ravens 24 Patriots 15
Giants vs. 49ers
At the beginning of the year this is a game I surely didn't see the Giants nor 49ers in but both teams have worked hard and earn a right to fight for a Super Bowl berth. The 49ers are coming off a big win last week against the Saints and the Giants went to Lambeau and handled the 2010 Super Bowl Champion Green Bay Packers. Eli Manning has recently been showing people he is a elite quarterback and I believe today will be no different. Even with the hard core defense the 49ers have this just may be Eli's time. The 49ers have a strong offense lead by Alex Smith and Vernon Davis but that Giants D line lead by Justin Tuck is hungry and looking to bring the Trophy back to the big apple. I like the Giants to move on thanks to bug games from Tuck and Brandon Jacobs. Also watch out for Victor Cruz.
Giants 31 49ers 17
© 2012, Eldorado2452. All rights reserved.