Established by Swem Library's Special Collections at the College of William & Mary, the William & Mary Hip Hop Collection is the most comprehensive of its kind dedicated to Virginia's hip hop culture and history from the 1980s to the present.

The collection includes oral histories committed to preserving and documenting Virginia's rich hip hop past, as well as recordings of hip hop music, publications, and ephemera created by Virginia and Virginia-based artists, collectives, and businesses.  Additionally, the collection documents the origins and impact of hip hop culture on college campuses throughout the state by collecting records of hip hop based student organizations, college radio stations, events and concerts with a special focus on William & Mary itself.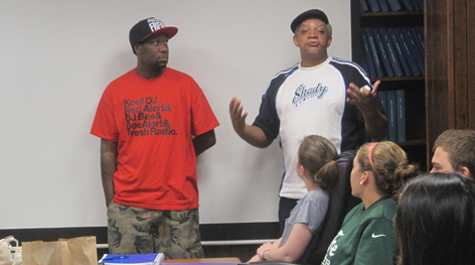 (L-R: DJ BEE & Kool DJ Red Alert speak to students at W&M before visiting W&M's hip-hop collection)
What year was the Hip Hop Collection established?
Amy: We began collecting material for the William & Mary Hip Hop Collection in 2012. We celebrated the launch and opening of the collection in April 2013 with the screening of two films.
Who founded the Hip Hop Collection?
Amy: Kevin Kosanovich, American Studies PhD candidate at the College of William & Mary, brought the idea to us here in Swem Library's Special Collections and we were so excited to partner with him on this project.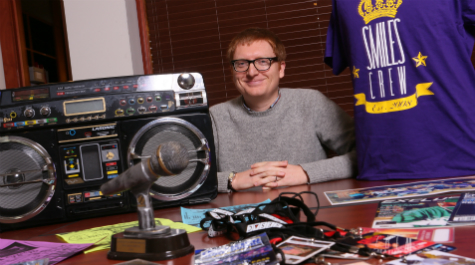 (Kevin Kosanovich, founder of W&M Hip Hop Collection)
What are your roles in the Hip Hop Collection?
Kevin: I've made contacts with individuals and talked with them about conducting oral histories and donating material to the collection and otherwise being a part of the William & Mary Hip Hop Collection.
Amy: As an archivist in Swem Library's Special Collections, I make certain that the material Kevin is collecting is available for use online and in the library  now and long into the future as well as working with my colleagues here in Swem on publicizing the collection and planning for its future.
Why William & Mary?
Kevin: William & Mary is centrally located in Virginia, so we can reach all parts of the state. As the oldest university in Virginia and located down the street from Jamestown island, it makes sense to document a historically African American art form here.
Amy: Why not? William & Mary has been collecting Virginia music and culture for many decades and adding the W&M Hip Hop Collection is the next logical chapter to Swem Library's documentation efforts.
Why Hip Hop?
Kevin: Hip hop is the most important American art form since the end of World War II.   
Do you plan on expanding beyond the hip hop genre?
Amy: Yes, we would love for the hip hop collection to lead us to a large local and regional music collection as well as just more people and groups who may have material for the archives or want to use the collections.
Kevin: For instance, we're interested in tracing radio DJs, funk, R&B, jazz pioneers, gospel singers, Soul singers and others whose work would have influenced hip hop, but also stands as important art forms in their own right.  
What inspired the founder(s) to create the collection?
Kevin: Through conducting my own research for my dissertation, I had the opportunity to visit the Cornell University Hip Hop Collection to research the history of hip hop in the Bronx. They have a great collection. I realized that Virginia also has a rich hip hop history and deserves its own collection.
What are some of the big names that you've got in contact in regards of the hip hop collection?
Kevin: In terms of nationally and internationally known folks, we have done interviews with Magoo, Larry Live, and Zulu Queen Lisa Lee.  We've had the honor of including Spike Lee's longtime executive producer and Wu Tang clan video director, Monty Ross, in the collection.  We had Popmaster Fabel help open the collection.  We've also had Kool DJ Red Alert visit campus and the collection and talk with students.  However, it's really important to stress that fact that we love talking with the "big names," but we're also interested in talking with anyone and everyone connected with hip-hop culture.  We continue to reach out to people at all levels of hip hop culture from international superstars to anyone who is a fan.  This collection was founded to document the hip-hop community, meaning everybody.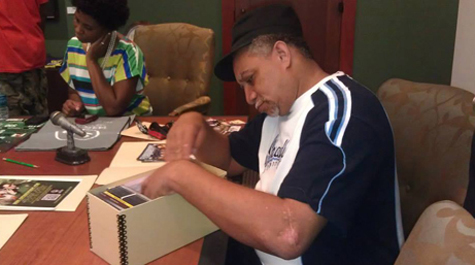 (DJ Red Alert going through W&M Hip Hop Collection)
What are some techniques you guys use to get the Virginia market informed about the collection?
Kevin: We use social media a lot – you can find us on Twitter @hiphopwm and Facebook https://www.facebook.com/swemscrc . We have also done radio shows, interviews for newspapers and magazines.  We're really proud of the work and response the collection has generated, so far.  Basically,  we talk to anyone who will listen about the William & Mary Hip Hop Collection!
Is the Hip Hop Collection open to everyone in Virginia Hip Hop(from indie to mainstream)? 
Amy: Yes, absolutely. Hip hop is an inclusive culture, so we want everyone to be involved in the William & Mary Hip Hop Collection, whether you're adding your story to the collection or using what is already here in the archives.
What are you guys looking for, as far as material for the collection?
Kevin: Stuff! We've got tapes, CDs, LPs, VHS tapes, posters, fliers, photos, news clippings, and scrapbooks. We'll also take some artifacts like clothing, trophies, and other objects, but we like to preview those items before accepting.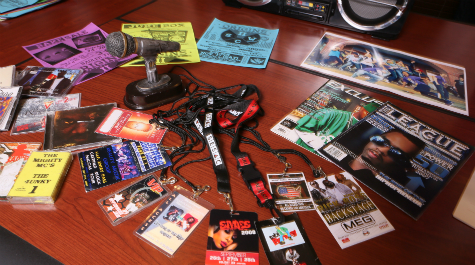 What are your plans for the future of the collection?
Kevin:  Keep on collecting.  Keep on building.  There are so many amazing stories and folks connected with VA hip-hop.  We hope to continue to provide a place and platform to preserve the history of the culture.  
Amy: We plan to keep collecting material as long as people want to contribute. We're hoping to partner with established individuals & organizations who can help direct people and material to the William & Mary Hip Hop Collection now and in the future. For instance, we'd like to work with radio stations and individuals who may have their own collections of photos, interviews, videos, and mixtapes to add those to the collection in the future. Outside of collecting new material, my hope is that we can meet a supporter who has the means to establish a scholarship or grant connected to the William & Mary Hip Hop Collection. We know of other universities who are making these partnerships happen, so why can't we do it here in Virginia as well? We hope the collection can be a means of bringing the community to William & Mary as well as bringing William & Mary off of its campus to the people of Virginia.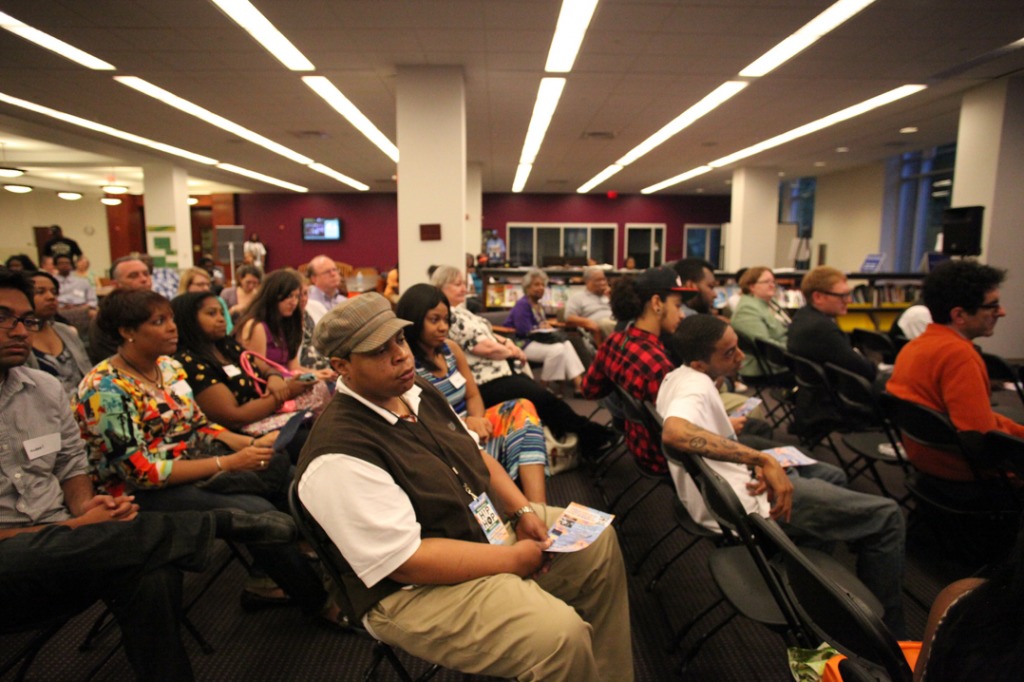 (Pictured: Opening Event)
What is your fondest memory in regards to the collection or any events surrounding the movement?
Kevin:  Really, all the work and relationships that have resulted from the collection are amazing.  The April 2013 opening event really testified to this fact.  Folks from all over Virginia filled the library to meet, talk and celebrate Virginia hip-hop culture.  The excitement that everyone had was fantastic.  It felt like a homecoming.  It was amazing to be a part of it.    
Amy: Everyone I've met who has decided to be part of this has been so open to the idea and understands the value of collecting, saving, and making available the history of hip hop. The enthusiasm and number of people who have stepped up to participate is just humbling and means so much. The people who have been a part of this collection's start is something I will always remember and treasure wherever life takes me.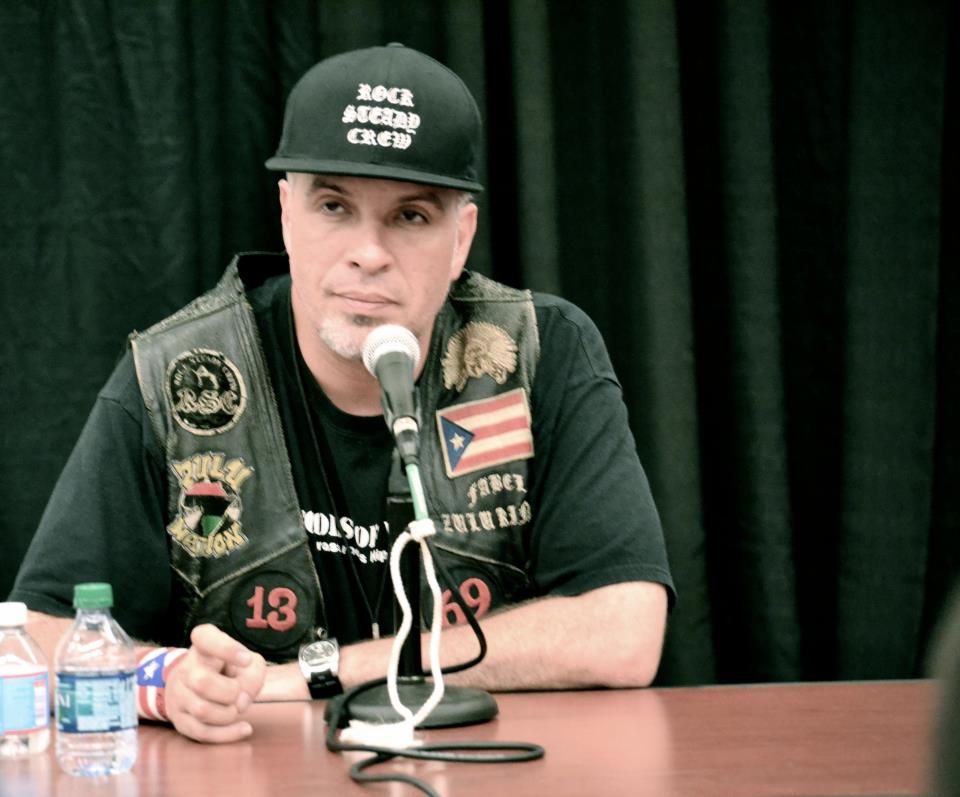 (Pictured: VP of Rock Steady Crew, Jorge "Fabel" Pabon on the panel at the Opening Event)
How many people have been involved thus far?
Amy: We've received interviews, fliers, and other material for the collection from over 95 people and organizations so far and we continue to add more.
Kevin:  95 and counting!!
Who would you like to get ahold of, that you haven't already?
Kevin:  Of course we'd like to include the folks like Timbaland, Missy Elliot, Chad Hugo, Pharrell, Pusha and No Malice, Nottz, Bink Dog, Jay Pharoah, Audra the Rapper, Lex Luger, DJ Jack of Spades, Teddy Riley, Shaggy and the list goes on and on; VA has a deep history.  Also, all graffiti artists!  Your voices are missing! Pioneering MC Sparky D lives in VA now, and we'd love to add her voice to the collection.  We'd love to include Allen Iverson and Michael Vick, too.  Really, though, we're happy to include anyone who wants to share anything related to VA hip-hop.  Every time we connect with someone new, I'm blown away by the fact that hip-hop has made these relationships possible.   
Amy: Everyone with ties to Virginia hip hop! I'm almost afraid to mention names for fear of forgetting someone (but seriously…call 757-221-3094 or email [email protected]). I think we all know the names of the international superstars who have come out of Virginia and we would love to introduce them to what is happening and talk about some of our hopes for the future of the collection and their place in it. The fact that we are building a community collection of Virginia hip hop is pretty unique in the hip hop collections that are being built around the country and that makes the William & Mary Hip Hop Collection that much more spectacular and impressive in my opinion.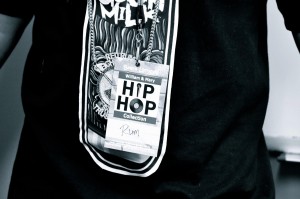 (We The Best Music Group's Rum/RedRum supports W&M Hip Hop Collection!)
What have you learned about the VA hip hop community thus far?  
Kevin:  How creative and boundary breaking everyone involved in VA hip-hop is.  I'm not just talking about DJs, producers, and MCs, but also folks involved all aspects of the business of hip-hop.  Also, women have played, and continue to play, an important role in VA hip-hop.  That's a story that's not always recognized when hip-hop is discussed.  
Amy: I'll admit to being fairly unaware of the long history of the Virginia hip hop community before Kevin proposed this project to me. The variety and the role of Virginia as a crossroads because of our location as well as because of the military presence in the state has been really interesting. 
Are there any issues that you're concerned about?
Kevin:  The main issue that I'm concerned about is an ongoing one, and directly tied to doing this type of work:  accurately representing the community.  My main concern is that everyone has a chance to share their history in whatever way they want to.  Always, we want to make sure that the collection stands as a record of the history of the VA hip-hop community, from the VA hip-hop community. 
Amy: As an archivist, I'm regularly dealing with issues related to privacy, copyright, and long-term preservation, so I don't feel like the material formats we're collecting offer any issues of concern that are new to me. As with any historical material, one of my big concerns is simply that we'll lose a part of the history as people pass on or throw photos, mixtapes, and other material in the trash because they think no one is interested. This would be a loss and truly unfortunate. 
If you could drop any gems for the people of the VA hip hop community, what would it be? (Any statements you've been dying to make to tell the people, collectively?)
Kevin:  If I can summon ODB for a second:  the William & Mary Hip Hop Collection is for the children!  Really, because hip-hop is such an important cultural force in American life, it's important that it's history is documented accurately so that future generations understand the culture.  Thanks to Amy, Swem Special Collections and everyone from the VA hip-hop community, I think we're doing it right.    
Amy: This history is important, valued by others, and William & Mary is ready, willing, and able to help you in preserving your contributions and making them available now and long into the future.
Any Shout-outs?
Kevin: CYMANDYE!  Of Course!  A true leader of VA hip-hop!  Abys, VA's First Lady of Hip-Hop, M$ Blendz, Big B, Double XL, Guerilla Will and Mike Miller from Taglish Tees, Q45 and Del from Ground Up Radio, and Henmusik and DJ WYZE have been early supporters.  The list is so long!  Also,  the members of the William & Mary bboy crew, SMILES Crew and the members of the William & Mary Student Hip Hop Organization (SHHO).  These were the first folks I got to know last fall and it was through them that I was able to connect with the hip-hop community beyond the campus.  And, of course, Amy!  Without her support and great work, having a hip-hop collection in the library would not have been possible.   
Amy: I have to give a shoutout to Cymandye for joining the William & Mary Hip Hop Collection early on. Shoutout to Henmusik and DJ Wyze for bringing their talent and helping to make the event launching the William & Mary Hip Hop Collection in April a success. I really just want to shoutout all 90+ people who have given something of their history to the collection here, but maybe you can just head over to the finding aid for the collection ( http://scdb.swem.wm.edu/index.php?p=collections/controlcard&id=10111 ) ! Shoutout to Dean Carrie Cooper and many colleagues at William & Mary for supporting the creation of the William & Mary Hip Hop Collection.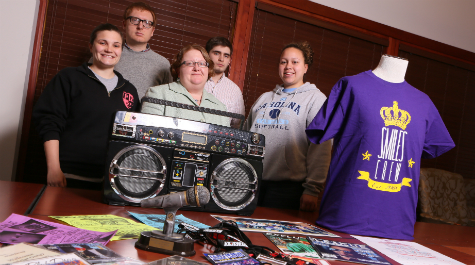 (Pictured: Kevin, Amy, and staff of W&M Hip Hop Collection)
© 2013, Cymandye. All rights reserved.