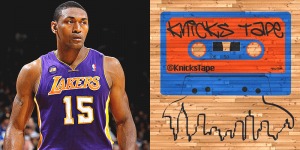 Metta World Peace Joins Knicks, JR Smith Has Surgery
No, the New York Knicks aren't getting rid of one of their players. Their Sixth Man of the Year just got surgery and will be out for 3-4 months. J.R. Smith is now recovering from patellar tendon surgery, which is just a fancy way of saying knee surgery.
In more recent news, Metta World Peace has just joined the Knicks on a 2-year deal worth $1.6 million. His first year is guaranteed while his second year has a player option. While J.R. Smith is out, World Peace, amnestied by the Los Angeles Lakers, can shine.
It is funny that World Peace actually signed the Knicks contract. The other night he was Twitter ranting about amnesty and playing in China. He's such a jokester, he forgot people might take him seriously. At the end of the day, basketball fans knew he would get over his emotions and sign with another NBA team. He did and he wants to win. Check out some of his tweets below!
How is playing with Anthony going to work? World Peace and Anthony are both SF so they probably won't be on the court at the same time. On the other hand, Melo could probably move over to the 1 or 2 and let World Peace play the 4 if they really wanted to play together. Summer practices will probably help Woodson and company figure out the rotation.
Metta World Peace Comments on ESPN.com
Regarding winning,
"I don't care if I'm starting, or sweeping the floors. You hear me? I want to win," he said.
Regarding playing with Carmelo Anthony,
"It's not about one person helping one person. It's about us doing it together," he said. "And they have that — if I'm not mistaken. They have chemistry, and everybody's a teammate."
Mike Woodson, Knicks Head Coach, Comments on ESPN.com
"I know his name has been surfacing out there," Woodson said in Las Vegas, where New York has a summer league team competing. "I can coach any player. I coached guys from 18-, 19-, 20-year-old young men, and built a team in Atlanta, and that's tough for a first-time coach. So I experienced that, and I don't think there's a player I can't coach if he's willing to be coached. … If anybody comes to this team, they've got to understand it's all about team, man. It's not about individuals here, it's not about me as a coach. It's about the New York franchise trying to win an NBA title. If you understand that, then we've got a chance. I like his skill sets a lot. I think a lot of teams have liked his skill sets over the years. He does a little bit of everything."
J.R. Smith Recovery Process
Now back to Smith. Smith's knee bothered him during the playoffs. He knew his knee was going to be an issue without surgery. He's lucky nothing happened to it during the playoffs like it did for Rose in 2012 and Westbrook in 2013. It was smart of him to wait but he could have gotten the surgery in June.
He should be returning just at the start of the season in mid-October or mid-November. His participation in the Knicks regular season is oddly imperative to help Anthony get his first ring.
Smith finished the post-season with 14.3 PPG compared to his regular season average of 18.1 PPG. Even though Anthony doubled Smith's PPG in postseason, Smith had essential assists in basketball plays that helped Anthony and the Knicks keep winning. During the regular season, Smith had the same mentality. He was alive during the regular season except for his shooting statistics. When he was on, he was on. However, inconsistency didn't help the Knicks. Aside from his .422 field goal percentage, during the regular season he recorded 1.25 SPG and 33.5 MPG.
The Knicks vs. Nets rivalry is going to be a great game to watch this year!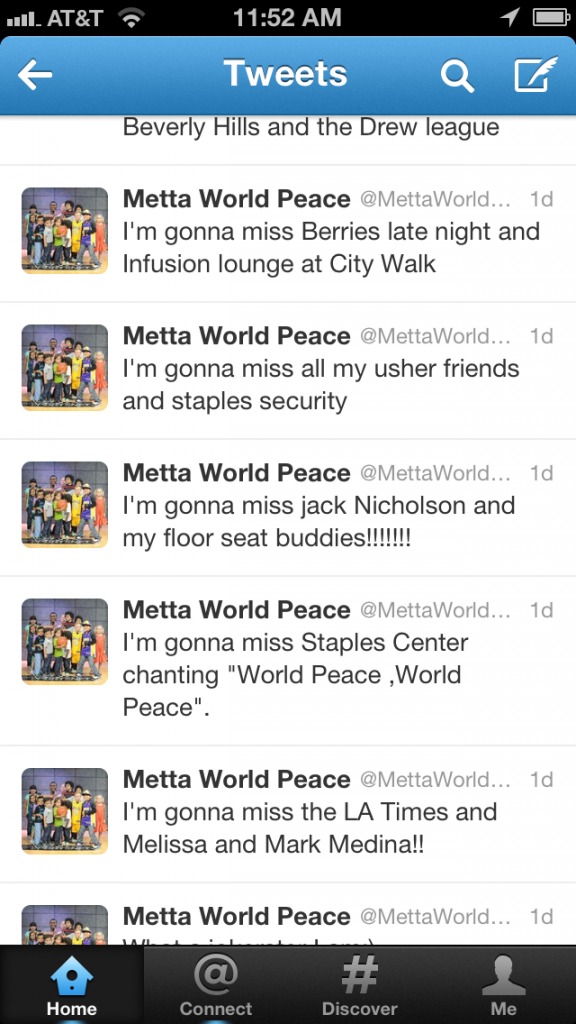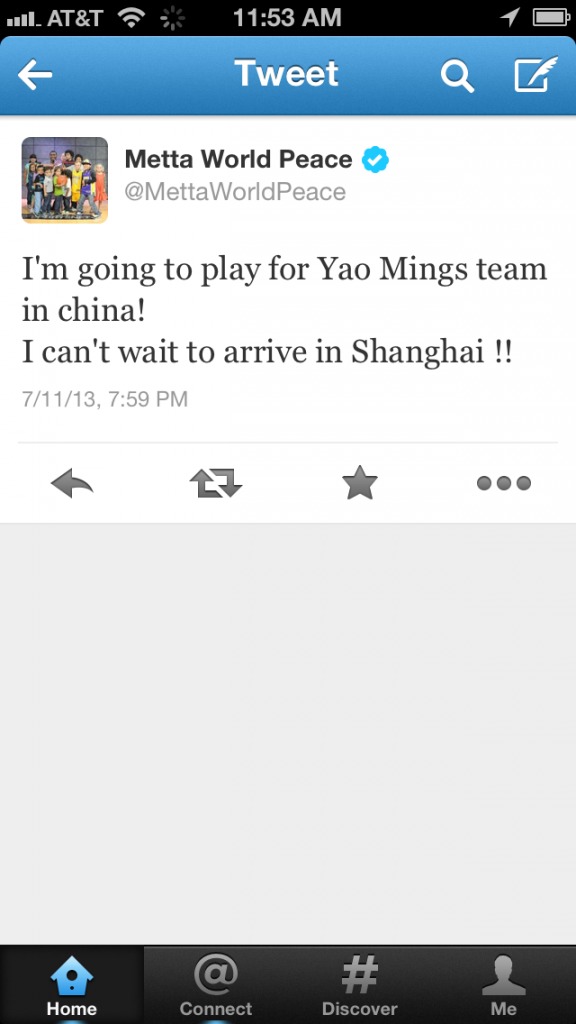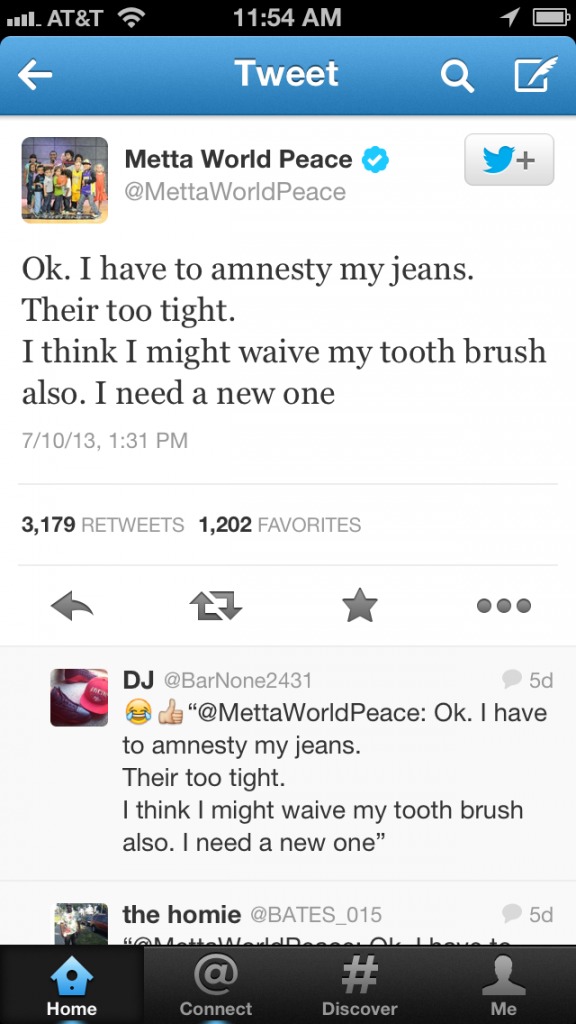 Photo Credit:
http://elitedaily.com/sports/official-tissue-metta-world-peace-has-signed-with-the-new-york-knicks/
© 2013, @BWyche. All rights reserved.