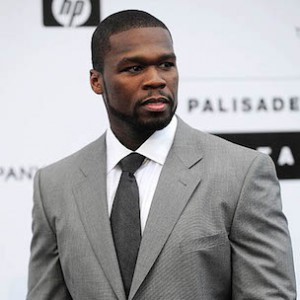 Fif's Street King Immortal is supposed to be his next album, but he threw out the name of his next next album with TheGuardian.com. The new album will be called Beautiful Nightmare and could be released in 2015.
According to 50, Beautiful Nightmare could possibly be released after Street King Immortal. Prior to discussing the possible album title, 50 Cent spoke on being viewed as a "symbol of hope" in his neighborhood.

"I'm the guy from the neighbourhood who's becoming a symbol of hope," 50 Cent said. "They look at me and go, 'It is possible to make it.' I took all the dysfunctional behaviour, everything damaging or that wasn't good in my life, and I turned it into the most beautiful nightmare you can actually create. That's my life…That's the title of one of my next albums. Street King Immortal is the new one to come out, but the one after that might be Beautiful Nightmare. I've got thousands of titles."

Later in the interview, 50 Cent was asked what he thinks his legacy would be if, like Tupac and the Notorious B.I.G., he passed away early in his music career. In response to the question, the Queens, New York rapper explained that it wouldn't take death for him to be compared to the two rappers.

"You know what, I don't think they'll replace me now," he said. "Already my face is in the hearts of people who really love hip-hop music, and the culture's growing to the point where you have people from all walks of life choosing it for their personal pleasure. So it's already there. I don't think it's going to take me being killed to compare me to Biggie or 2Pac. I am immortal."

Lastly, 50 Cent spoke on artists like Kanye West and Jay Z giving themselves god-like nicknames. He say it's one trend he won't take part in due to his belief in a higher power.

"My album is called Street King Immortal and at one point being King of New York was everything," 50 said. "Hip-hop comes from New York City, so when you say Street King it actually works, it resonates, it's a strong title. But they changed it, made it even bigger, about God himself – like when Kanye calls himself Yeezus. And then Jay Z calls himself Jay-Hova … A god instead of a king. That's a little further than I would go…I don't think they put that much depth into it. I don't think they had negative intentions when they chose those things, but me personally I believe in a higher power, so I won't really play in that area."
© 2014, DukeLondon. All rights reserved.