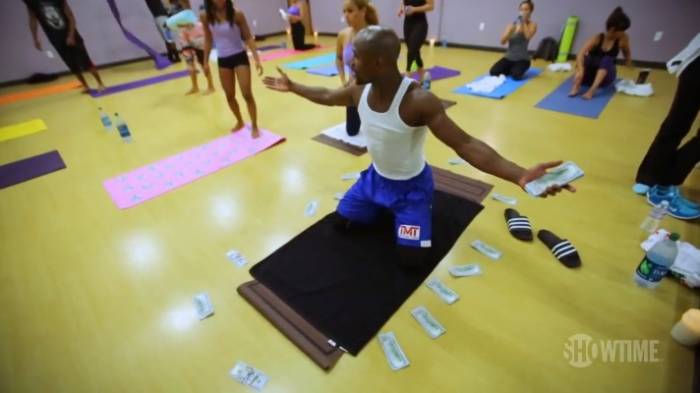 Last night on Showtime was the first episode of Mayweather vs Maidana 2 All Access. In this thirty minute clip we get to see a continuation of the boxing gloves controversy that started at their last bout. We also get to see the changes both Floyd and Maidana are making to win the rematch. Maidana added a new strength and conditioning coach, while telling his team Floyd punches don't hurt. While Mayweather is doing what he do best, train hard, eat Mcdonalds, and enjoy a newly added yoga class with his all women entourage.
It was at the 23 minute mark when Floyd was walking in a casino hallway when someone reference the 50 Cent $750k reading challenge to Floyd below.
Floyd response came around the 23 minute mark of this episode and it was "That's all he challenged me? He gotta raise the stakes. Does He still make music? I ain't heard him in a while." Remember Charlamagne played an audio clip of Floyd struggling to read an iHeartRadio drop here. It was in July when Nelly commented on Floyd not graduating high school here. Earlier this summer Floyd had a run in with T.I. after linking up with Tiny here. It seems like Floyd and rappers don't get along.
Haven't seen Floyd new girlfriend, Bad Medina yet? Follow her on instagram here.
© 2014, @BWyche. All rights reserved.