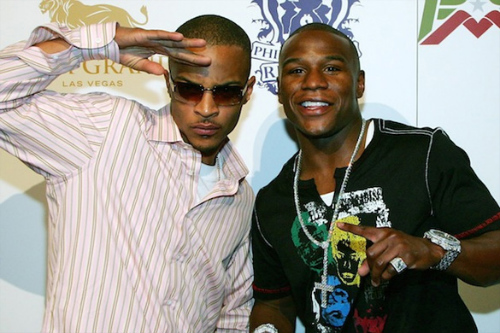 This morning the Internet was buzzing after T.I. and Floyd Mayweather got into a fight allegedly over Tiny. Footage of the rapper and boxer fighting at Fatburger in Vegas surfaced and Floyd is heard saying to T.I., "Control your bitch." Floyd told Necole Bitchie today that the issue between them was over a few Instagram pictures. Back in May, Tiny and her friend attended his fight and the rapper's wife posted a picture on her IG account of her, her friends, and the boxer at a party. Tip approached Floyd about the picture when they ran into each other in New York City. The two chopped it up and Floyd insists that nothing happened with Tiny, whom he has known before she even married Tip. Floyd told him "These girls tryna play us against each other."
Fast forward to yesterday, Tip approached the boxer once again at Fatburger. Tiny and her friend, Shekinah, attended a party with Floyd last night and everything was fine. Perhaps Tip didn't like that the duo were partying again so he approached Floyd telling him they needed to talk. Things got heated from there with Floyd reminding the rapper what he does for a living.
According to Floyd, the two never really put hands on each other besides some pushing. When the duo was pulled apart, Floyd yelled, "Control your bitch" and that is the only thing he has apologized about. He said, "I do apologize to Tiny because she cool people, man. She cool. She never disrespectful to me," before adding that he wouldn't sleep with Tiny even if she left her husband because "sometimes sex can mess up a good friendship up. And basically, I don't want to fuck up a good relationship that I have with a person."
Listen to a part of the interview below and read the entire thing at Necole Bitchie.

© 2014, Julie Aly. All rights reserved.